Gyproc systems hit the big screen
Lightweight high performance wall and lining systems from Gyproc Middle East have been selected to meet demanding standards of acoustic and fire protection for VOX Cinema's latest two state-of-the-art 'mega-screen' multi cinemas.

Due to open in June as part of a major redevelopment plan by leading shopping mall, retail and leisure pioneer, Majid Al Futtaim, for its Muscat and Qurum City Centre Malls, the new cinemas boast a total of 17 screens between them.

To meet the very high standards of acoustic performance required both within individual auditoria and for separating walls between adjacent screens, as well as achieving demanding standards of fire performance throughout the complexes, Gyproc's technical team developed a specification based on its GypWall QUIET and GypLyner IWL metal frame systems.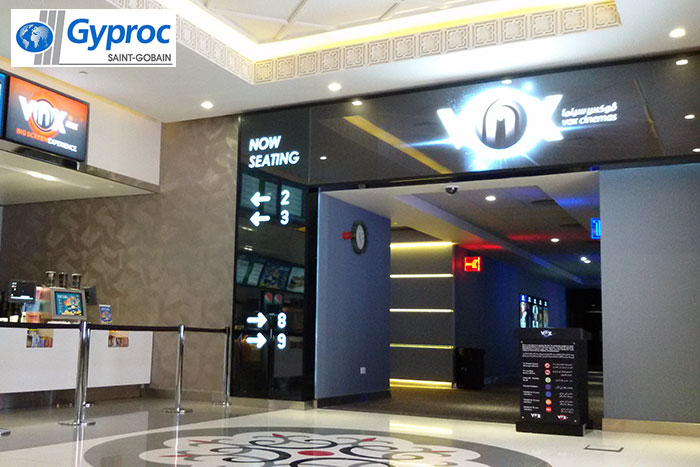 A special high performance twin-frame acoustic separating wall, widely used in commercial and industrial applications to prevent sound transmission between offices and work spaces, GypWall QUIET has been used to contribute to sound reduction levels of up to 74dB, whilst throughout the complexes, GypLyner IWL is helping to provide up to 3 hours fire protection to the steel and masonry structures.

To ensure that contractors had the necessary skills to install the systems to the very high standards required to meet the demanding performance levels, full technical back-up was provided throughout the projects, and Gyproc training specialists carried out 58 man-days of structured training with installers on the two sites.

The first phase of a planned investment of over Dh750 million that will see the number of VOX screens across the Middle East increase to over 250 over the next four years, the new cinemas in Muscat and Qurum will feature the latest digital and 3D technology, and will be the largest and most sophisticated of their type in Oman.