Hansgrohe products add stylish urban edge to The Domain, a new social hotel concept
Hansgrohe, the luxury bathroom fittings specialist, has equipped The Domain, a new members club and hotel, with products from its stylish Metris, Axor Citterio and Axor Massaud lines, adding a sense of minimalist simplicity to the chic urban hotel.

Based in Bahrain, The Domain is the first hotel concept of its kind in the region, offering guests a socially charged environment to meet other guests and members from a similar business through its internal social network; The Conversation.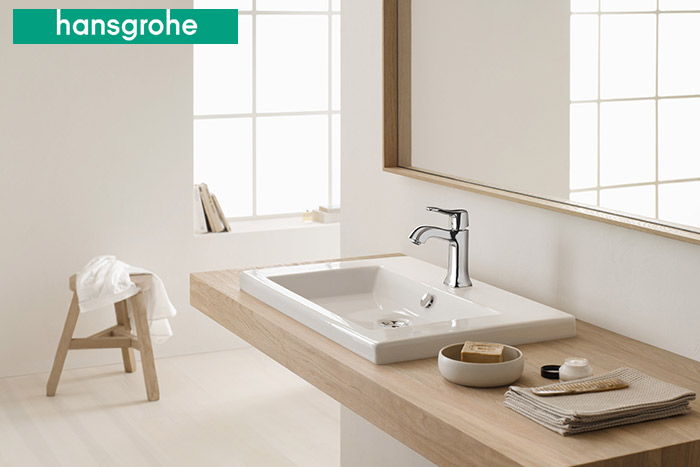 Designed to be an exclusive members club with the added benefit of hotel rooms, the spacious hotel set in the heart of Bahrain's Diplomatic District offers 63 luxurious suites, plus 68 ultra-modern rooms, all with breath-taking views over Bahrain Bay and the city. Providing a touch of luxury to the suites, Hansgrohe's Metris Classic range is reputed for its modern twist on classic genteel design.

Featuring Metris classic mixers with special gold aerators for additional charm, along with Metris overhead showers, rainfall jets for bathtubs and whirlpools, and Metris deck mounted mixers, each room is designed with exclusivity in mind. Adding a touch of class to the hotel's social areas, products from Hansgrohe's designer Axor range, including Axor Citterio and Axor Massaud basins, were selected in line with the hotel's cool, urban vibe.

Tony Connor, Managing Director of Owners Representative, Al Matrook Group, says; "The Domain is a fresh concept in the region. Everything from the design, the use of social networking, and the food and beverage outlets are completely unique for the ultimate guest experience. The clean, contemporary and, in some cases, classic designs of the Hansgrohe products chosen for The Domain are in perfect unison with this concept. Hansgrohe also ensure quality is at the forefront of the mind with all products so that the overall experience of The Domain remains a first-class experience for members and guests."

Dirk Schilmoeller, Sales Director Middle East for Hansgrohe, says; "At Hansgrohe, we strive to create bathrooms that are the epitome of luxury, thanks to our designer range and the products of Axor, our sister company. The Domain similarly represents quality, exclusivity, and luxury hospitality and we are highly gratified to have been chosen to equip this unique members' hotel concept."

The Domain Bahrain is a part of the Chic & Unique Hotels Group - a new business division of the Al Matrook Group of Companies headed by Bahraini entrepreneur and businessman Faisal Al Matrook. The slogan "Stay Work Play" represents the fusion of business and leisure in the lives of guests.
Categories:
10 28 00 - Toilet, Bath, and Laundry Accessories