Hansgrohe SE supplies bathroom fittings for Park Hyatt Abu Dhabi Hotel and Villas
Hansgrohe SE almost fully equipped the five-star Park Hyatt Abu Dhabi Hotel and Villas, which opened on Saadiyat Island, with its renowned Axor Citterio collection, part of the designer range Axor.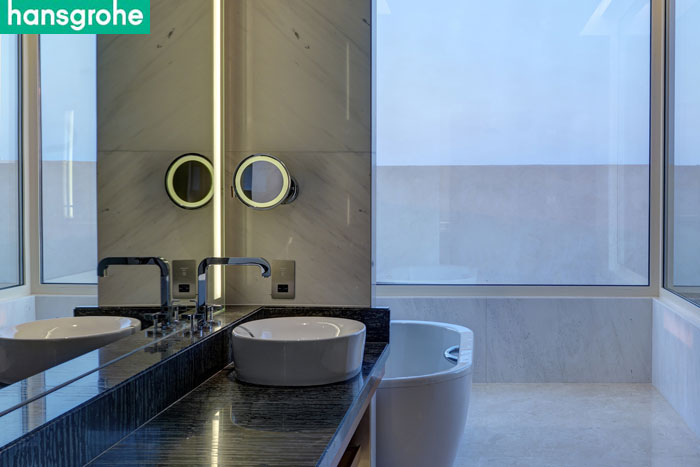 The resort's 306 rooms, suites and villas are equipped with the Axor Citterio range.
Dirk Schilmoeller, Sales & Marketing Manager Middle East & North Africa, Hansgrohe SE, commented: "Park Hyatt Hotel Abu Dhabi is a stunning island development located just minutes away from Abu Dhabi's main business district. Axor Citterio complements the hotel's lavish open-plan bathrooms with the collection's rich detail and purity of design."
Axor Citterio is a timeless, classic collection developed in cooperation with internationally renowned designer and architect Antonio Citterio. Axor Citterio has transformed the bathrooms in Park Hyatt Abu Dhabi's 306 spacious rooms, suites and private villas into the place for ultimate relaxation and comfort.
Created for those who enjoy the daily ritual of washing, Axor Citterio is a collection that focuses on simplistic luxury by beautifully giving life to the precious resource of water. The mixers in the collection are intricately designed to play out the contrasting interaction of an array of square and curved shapes. These features can be found in all mixer versions – from the single lever mixer to the classic 3-hole mixer.
Located on a nine-kilometre stretch of environmentally protected beach on Saadiyat Island, Park Hyatt Abu Dhabi Hotel has been created as an exclusive sanctuary for the discerning business and leisure traveller.
Hansgrohe SE also equipped the 189 guestrooms in Hyatt Capital Gate hotel Abu Dhabi with the full Axor Citterio range.
About the designer: Antonio Citterio
Italian-born Antonio Citterio is an internationally sought after designer who specialises in building and bathroom design. Since 1972, he has worked with a renowned portfolio of companies and has been engaged in many prominent projects in construction and interior design. Citterio has won many awards for his designs and he continues to transform the bathroom into a place of relaxation through the Axor Citterio collection.