About Axor One Thermostatic Module
Axor One Thermostatic Module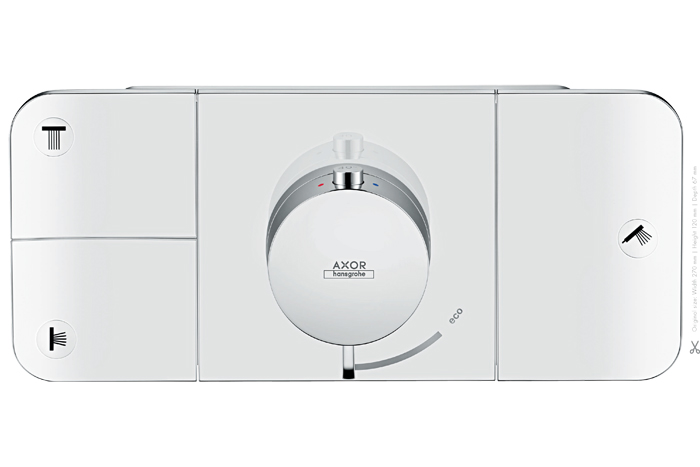 Everything is reduced to a single, central shower control element. There is nothing to distract the eye. Everything looks clean, elegant and inviting. Axor One is a confident, and yet unobtrusive statement that brings a spacious feeling into the shower – making it a haven of tranquility. Given the clear design language, Axor One is of course easy and intuitive to use. All that is needed to activate the various shower jets is a gentle tapping of the paddles with the finger, the back of the hand or even the elbow. For the new ShowerProgramme, Axor chose to work with London-based design partners Edward Barber & Jay Osgerby, whose philosophy is founded on Interaction Design.

ONE TAP
A gentle tap on the paddles is all that is needed to control the required shower jet. Up to three different showers can be activated at the same time.

ONE TURN
The temperature can be controlled precisely by the cylindrical handle and limited by the temperature lock.

ONE SLIDE
Sliding the small lever allows you to deliberately reduce the amount of water you use by up to 50 % – for instance, making it possible to use less water when soaping your hair.

MODELS
Thermostat module for three outlets, concealed installation (# 45713000)
Thermostat module for two outlets, concealed installation (# 45712000)
Thermostat module for one outlet, concealed installation (# 45711000)
ACCESSORIES
Shut-off valve, concealed installation (# 45771000)
Porter unit with integrated wall connection (# 45723000)
Shower support (# 45721000)
This shower was designed with Axor One in brushed black chrome. Brushed black chrome is one of 15 special surfaces that are producedexclusively by Axor.
News archive:
Axor One: A New Interactive Shower Control Element Designed by Barber & Osgerby (9 Nov 2015)
10 28 00 - Toilet, Bath, and Laundry Accessories
22 40 00 - Plumbing Fixtures
22 41 00 - Residential Plumbing Fixtures