Axor One: A New Interactive Shower Control Element Designed by Barber & Osgerby
Axor, the designer brand from Hansgrohe, has launched yet another remarkable product innovation - Axor One. Designed by London-based design duo Barber & Osgerby, this is the brand's first all-in-one interactive shower control element. Introduced at the recently concluded London Design Festival, this masterpiece of intuition is a confident, yet unobtrusive statement in the shower solutions space.

"With Edward Barber and Jay Osgerby, we transformed the idea of a central shower control element into an engaging, purely mechanical interface that refines showering into a tactile, precise and responsive practice", Philippe Grohe, Head of Axor, explains.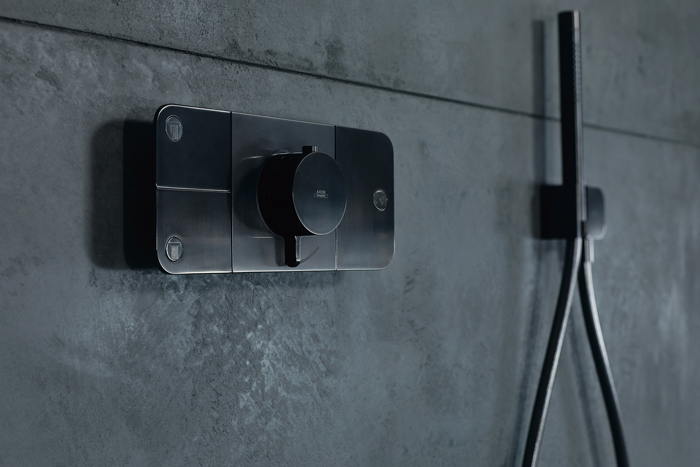 All-in-One: A New Level of Simplicity Thanks to Structured Functionality
"Axor One allows a completely fresh interpretation of water control: by consolidating many individual controls into one simple element, it streamlines both the look and functionality of the bathroom"
, according to Edward Barber and Jay Osgerby.
The possibility to simultaneously turn multiple water outlets on or off with the back of the hand or the elbow makes Axor One a convenient and engaging shower experience. The temperature is set by turning the central dial, a small lever directly below regulates water volume, and the Eco Mode reduces water consumption up to 50%. The flow of water is activated and deactivated by tapping of the paddles: clear symbols indicate the specific water outlets the user can choose from. This unification of water outlet activation, water volume regulation, and temperature control, gives a sleek form to a structured function.
Instinctive and Pared Back Design
With its monolithic but soft form, Axor One creates a new spaciousness in the shower – a pleasant feeling of clarity and tranquility. Plane surfaces, rounded edges, and an integrated mechanical interface, constitute a clearly structured concealed thermostat that eliminates distraction from a soothing shower experience. The refined proportions, sculpted form and accurate detailing make a timeless statement that merges seamlessly with any bathroom environment. With a variety of special finishes, ranging from subdued chrome to a bold red-gold, Axor One becomes as prominent as the user would like it to be.
Categories: