HIMOINSA and FAMCO bring together important engineering firms in UAE to offer energy solutions for special projects in the Middle East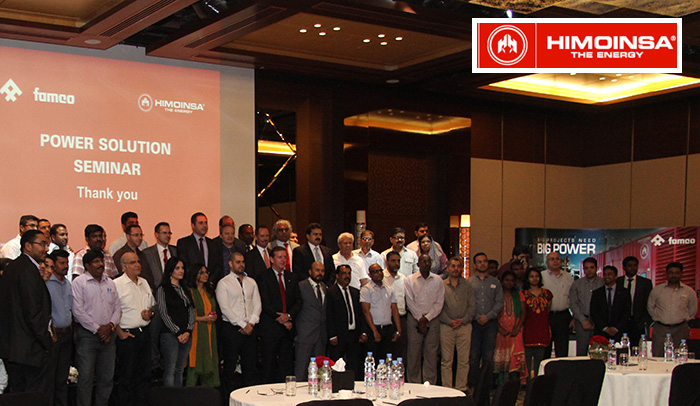 HIMOINSA through FAMCO, its distributor in UAE, Qatar and Saudi Arabia, has called on major construction, telecommunications and engineering companies operating on major projects in the Middle East. The UAE Ministry of Public Works was represented by the technicians of its Engineering and Projects department. Similarly, representatives of other major engineering companies such as Arab experts engineering consultants, Engineering Consultants Group, Emirates Transport ... attended the meeting in order to find out about the energy solutions posed by the company for special projects that are being developed in the region.

Terry McGuire, Regional General Manager - Power & Industrial Products Division, at Al-Futtaim Auto & Machinery Co. LLC (FAMCO), opened the event by explaining the business relationship between HIMOINSA and FAMCO, which has been in place for four years.

Keith Webb, General Manager of HIMOINSA Middle East, reviewed HIMOINSA's presence worldwide. A company with over 1000 employees, eight production centres and ten commercial subsidiaries in five continents. With a production capacity of 60,000 units a year, HIMOINSA provides the market with generator sets with a wide power range from 3 to 3,000 kVA.

However, the main focus centred on special projects; power generation plants, hybrid systems, gas power generation, variable speed ... projects that HIMOINSA is working on, allowing the company to offer comprehensive solutions to its customers.
Jean Luc Rolland, Senior Project Manager at HIMOINSA Middle East, and Massimo Brotto, Business Development Manager at HIMOINSA Headquarters, responded to questions from the audience regarding how the ideal generator set is chosen for each project, the size, power, settings, as well as the necessary adjustments to ensure maximum performance in each environmental situation.

Companies like Fujairah Rock and Aggregate, Metito, AF Engineering, Al Hamad Group Sharjah, Al lttihad Electro Mechanical, DU, Thermo LLC, Al Mansoori Production Services, CCC, Clarke Samadhin Associates, Petrofac, MARS Equipment Co., Raj Stones, Airtech A/C system, FNCT, among others, which attended the event, operate on projects in extreme environments, and as such demand high quality generator sets, which are resistant to high temperatures and climates with high levels of humidity.

"With these kinds of events we can bring our solutions to the market. HIMOINSA offers not only generator sets, but comprehensive solutions. We have a technical team of engineers working exclusively on 'Power Solution', designing Plug & Play systems, turnkey projects, Medium Voltage projects...", added Guillermo Elum, Director of Sales & Marketing at HIMOINSA.

Categories:
01 51 13 - Temporary Electricity