HIMOINSA awards FAMCO on fourth anniversary as official distributor in UAE, Qatar and Saudi Arabia
The business relationship between HIMOINSA and FAMCO in the Middle East has been going now for four years. To mark this anniversary, Sales & Marketing director at HIMOINSA, Guillermo Elum, awarded Paul M. Floyd, Senior Managing Director of FAMCO, a commemorative plaque celebrating the company's four years as official distributor in UAE, Qatar and Saudi Arabia. The ceremony took place during the Middle East Electricity event held in Dubai between 11 and 13 February.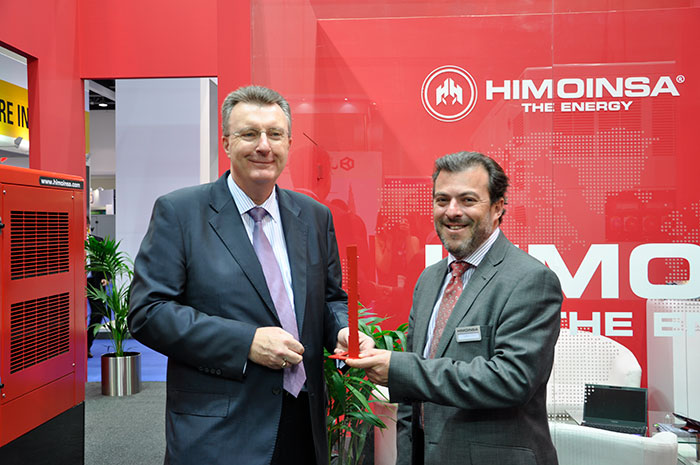 Paul M. Floyd expressed his gratitude for this award which represents the strong four-year relationship between both companies in the Middle East. "FAMCO only distributes top brands and quality products and HIMOINSA is one of them" noted Floyd, adding "when we are looking for partners we demand 100% quality products and, in this regard HIMOINSA ranks among the leaders in our line of business".
The management team at FAMCO, which is part of Al-Futtaim Auto & Machinery Co. LLC, affirmed that the Middle East offers massive growth opportunities. "HIMOINSA not only offers quality products but also boasts a structured After Market service, two areas which are valued by customers. Together, FAMCO and HIMOINSA are ready to grow market share in this region", added Floyd.
For his part, Guillermo Elum, Sales & Marketing director at HIMOINSA, noted the excellent relationship with its distributor, stating that FAMCO is a "strong, consolidated and highly qualified company, which boasts a team of professionals working tirelessly to grow in the countries where the company operates".
Terry McGuire, General Manager at FAMCO's Power & Industrial Products division, stated that "HIMOINSA is one of the largest power generation brands in the Middle East. Our relationship is perfect. It's a young company which has grown really quickly in recent years". Terry McGuire is convinced that FAMCO's success means HIMOINSA's success, declaring "we share this success and we shall work together to continue growing in the region".
Categories:
01 51 00 - Temporary Utilities