Hörmann ALR 67 Thermal Doors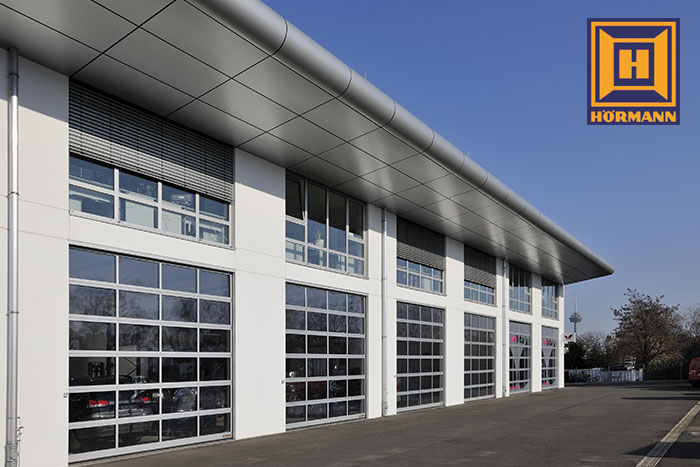 Hörmann, the leading global door and frame manufacturer, known for their market-ready and high-quality products have launched a new range of ALR 67 thermal doors in their industrial door section, specifically designed to improve insulation levels especially during the hot summer months in the region. They also come with a very innovative and useful wicket door and trip-free threshold.

The new range is the perfect fit for commercial buildings and other modern architecture as it blends in perfectly with all contemporary design styles. Apart from commercial buildings, the ALR 67 is also appropriate for workshops and fire station buildings due to its glazing properties which allow more light into the building, thus increasing the natural brightness, while a standard glazing helps to provide a perfect clear view from the inside. It also enables the surface to be maximum scratch-resistant. The glazed doors with their aluminium profiles consist of a thermal break and optional climate glazing to ensure improved insulation of up to 55 %.

Moreover, with a depth of 67 mm, the ALR 67 consists of thermal break glazing beads that increase the insulation level and are recommended for maximum thermal insulation requirements. They also include an optional climate glazing and a thermo frame that decreases the thermal insulation value up to 1.6 W/ (m²•K)

This product can be ordered with exclusively glazed aluminum doors in which large glazings made of real glass can serve as a display window, attracting potential customers to their doorsteps through elegant, clear and eye-catching display frames.
Furthermore, for higher thermal insulation requirements, the ALR 67 thermo glazing is also available with thermal break profiles.

According to Darius Khanloo, Managing Director of Hörmann Middle East, "With the summer heat rising to unbearable levels every year, this range of doors is specifically designed to improve insulation levels while giving the users additional benefits of assuring a good amount of natural light inside, clear view through the glasses and also giving them an option to use our product as a display window."

The aluminum glazing frames can be made available in clear, crystal structure or tinted in brown, grey or white (opal) for triple or quadruple pane.

Categories:
08 36 00 - Panel Doors