Hörmann Middle East expands presence in the region with a new office in Qatar
Hörmann Middle East, the market leading industrial, commercial and residential door manufacturer, has expanded its presence in the region with the opening of a new office in Doha. This is the second office for Hörmann in the region after its regional Headquarters and assembly plant in the UAE. Hörmann provides the latest technology and designs in garage doors, entrance doors, internal doors, fire doors and smoke-tight door assemblies, industrial doors, loading technology, frames and windows.
According to Darius Khanloo, Managing Director of Hörmann Middle East, "We are excited to open our new office in Qatar which is a market we have been serving for several years now. We currently have a sizeable share of the Middle East market and now with a direct office in Qatar, we will be able to strengthen our presence. In Qatar, we have undertaken many prestigious projects till date and now with the country gearing up for major projects and events like FIFA World Cup, we see great potential for our products. We have obtained approval from Qatar Civil Defense for our fire rated steel doors. Having established an assembly plant in the region, we are able to serve the market in a more prompt and effective manner. We also offer custom made solutions for logistics companies and food and dairy companies."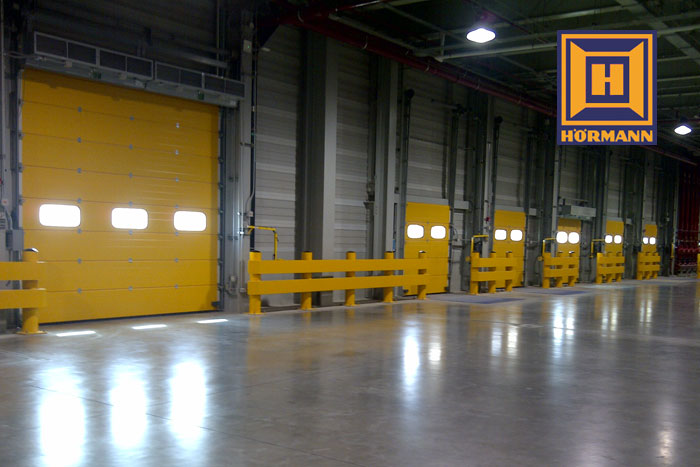 In Qatar, Hörmann has installed doors and related products like Dock Levellers, Decotherm and Roller Shutters for various clients like College of Media and Communication, Turkish Embassy in Doha, Jaidha Square, Epic for Berth and Port Infrastructure in Ras Laffan, Energy center at Pearl Qatar, Metal Research Weil Cornell Medical College Doha, Al Kissa Villa, Logistics Village Phase 2, Nakilat Phase 4A and Ras Laffan Port extension.
"Apart from industrial and commercial sectors, we also provide doors to match the architecture of any home. All our doors are equipped with a door operator that is virtually maintenance-free and comes with innovative safety features like Finger Trap Protection, Photocells that immediately detect people and objects and provides additional level of safety, BiSecur hand held transmitters with FM signals for opening automatic doors and gates, and lockable bottom profile," said Khanloo.
Unique products include wicket doors with trip-free thresholds which decrease the risk that persons passing through will trip and injure themselves. The company has also seen a remarkable demand in the region for its environment friendly door solutions. Hörmann steel ThermoPro doors improve thermal insulation by up to 30% and come in a wide variety of styles and, despite being relatively inexpensive, provide great energy efficiency as a result of their excellent thermal insulation. Multi-point locking also ensures high security.