Hormann's JAFZA factory starts production of steel fire rated hinged doors
Hormann's new factory in JAFZA has started rolling out steel fire rated hinged doors to meet demands from Middle East customers. One of the world's largest producers of industrial, commercial and residential doors, Hormann opened its new 4,800 square meter production line in JAFZA in the last quarter of 2018. With a capacity to produce 35,000 doors a year, the new facility redefines Hormann's operations in the region.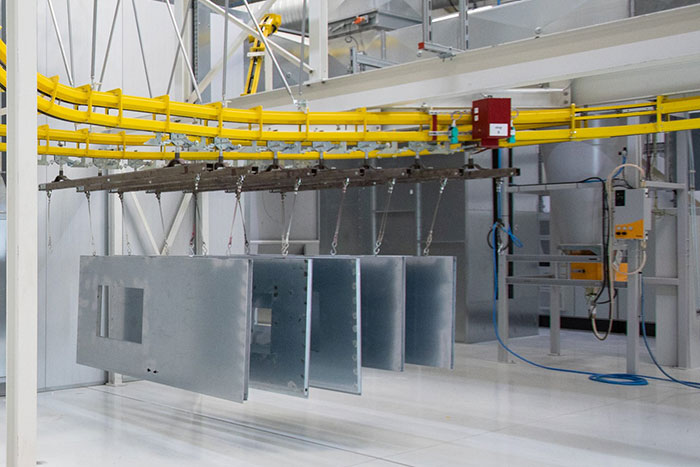 Hormann's steel hinged doors are designed to protect property and life in the event of a fire. The door serves as a fire and smoke barrier. Studies have shown that more people have lost lives due to smoke asphyxiation than due to fire. Though serving as regular doors at all times, the doors provide ready egress from a fire area during a fire, inhibit spreading of fire and protects life and property by reducing smoke hazards.

Designed to meet the life-safety requirements in various types of buildings and structures, Hormann fire doors help compartmentalise and contain the spread of fire. Hormann steel doors complement existing passive fire-fighting systems.

According to Darius Khanloo, Managing Director, Hormann Middle East, "Hormann's new factory in Dubai produces steel hinged doors with highest quality and meets ISO 9001:2015, ISO 14001:2015 and BS OHSAS 18001:2007 standards. Our steel hinged doors can be used in high-rise buildings, metro railway stations, shopping malls, hotels and restaurants and other demanding environments. They are available in galvanized or stainless steel and they are factory prepped to receive all types of hardware and are easy to install on a flush wall opening and dry wall partitions. They also boast high aesthetics and robust structure."

Hormann fire rated doors meet all the stipulated international, national and regional fire safety standards and are available with a honeycomb core as the standard infill material, with other options available. The infill options allow for the doors to withstand a fire for 45, 60, 90, 120, 180 and 240 minutes. All fire doors are factory finished with epoxy primer and polyurethane-finish paint. It serves as a fire and smoke barrier with an ability to withstand a fire from 45 to 240 minutes, preventing fire spreading and protecting lives and properties by reducing smoke hazards.

The door is finished with a polyester powder coating and wood grain can be provided as an optional finish. All steel Hormann doors are factory finished and etched primed to take any paint, offering a wide range of semi-gloss paint finishes.

#hormann #doors #garagedoors #steeldoors #firerated