Ideal Standard 'Powers The Everyday' With Expanded Showering Collection
Ideal Standard, one of the world's leading manufacturers of bathroom solutions, has expanded and redefined its showering range to help customers easily choose the perfect shower system for them and guarantee a premium showering experience day after day.

The collection enables users to find their ideal combination of comfort, style and performance to complete their space – whether it's an original design or a renovation of a family bathroom, wet room or en suite. Selected models are also available in a silk black finish, allowing customers to elevate any bathroom with a contemporary alternative to traditional chrome.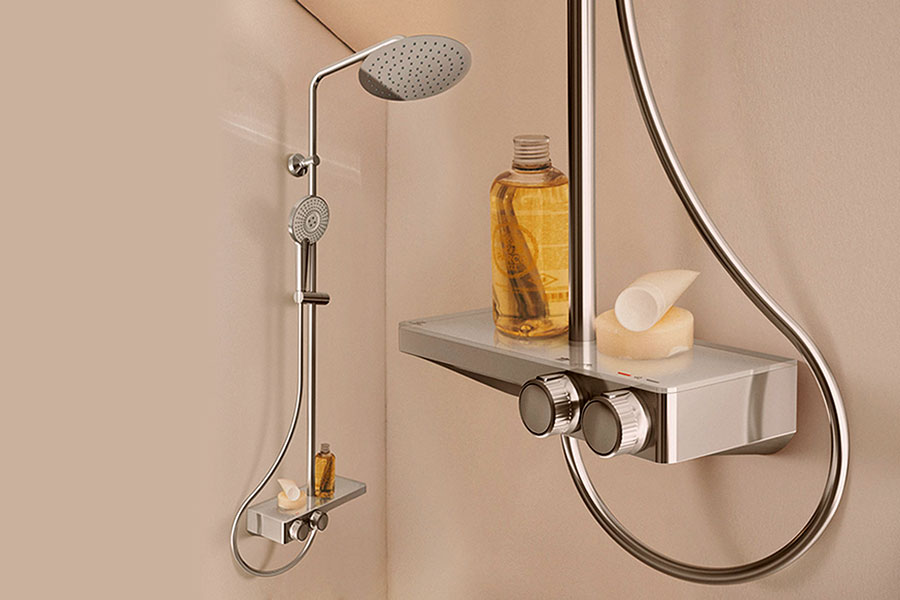 All of Ideal Standard's thermostatic shower systems are fitted with the brand's pioneering Firmaflow® Therm cartridge, allowing for precise temperature control while providing unrivalled durability and efficiency. Each model also comes with Cool Body technology, keeping surfaces cool to the touch to protect people from scalding. Meanwhile, integrated eco flow regulators help users to save water and energy without sacrificing the showering experience, and all components are smooth and easy to clean.

The entire collection benefits from Ideal Standard's selection of Idealrain shower heads, offering a personalised showering experience with a choice of spray modes – from invigorating to relaxing.

The showering portfolio comprises three offers – Design, Comfort and Fresh – helping users to find their perfect solution, all of which are equipped with Ideal Standard's innovative, German-engineered technologies that ensure optimum functionality, safety and durability.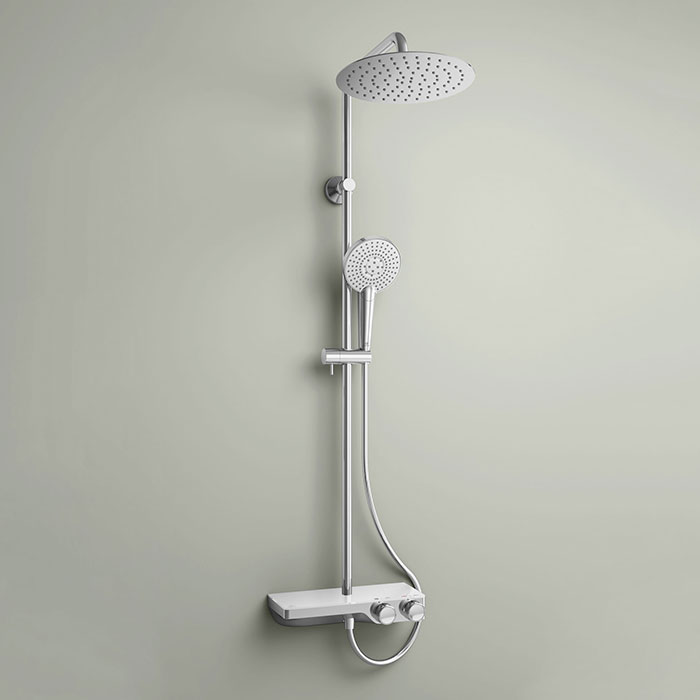 The deluxe showers of Design are characterised by flat surfaces, extra-large shower heads and quality metal handles, making them a statement piece for style-conscious customers. Included in the collection is the new Ceratherm S200, which features a forward-facing controls unit for easy access when adjusting temperature and flow, as well as an integrated shelf of safety glass, adding valuable extra storage space without compromising on aesthetics.

Shower systems within Comfort have been designed with safety, durability and comfort in mind. Users have a choice of hard-wearing shower heads, and can easily flick between three different spray modes at the push of a button. In addition, the new Ceratherm Flex system offers total freedom of movement of the shower head. During installation, it can be moved up and down and from left to right, as well as back and forth from the wall – a feature pioneered by Ideal Standard. This results in the perfect shower head position for any setting, making it the ideal choice for both new builds and renovations.

Fresh blends modern design and must-have technology, with small but important design touches adding extra flexibility and control, such as the raised button on the Ceratherm T25 to enable better grip. With both Comfort and Fresh, a shelf can be ordered separately to create extra storage in the bathroom.

When it comes to installation, all products come pre-calibrated, with streamlined designs and common connections making set-up hassle-free. EasyMount height adjustable wall bracket fittings also ensure simple installation in almost any location, while Swivel Arm functionality lets installers easily adjust the angle of the shower arm.

Frederick Trzcisnki, Marketing & Innovation Director at Ideal Standard MENA, said: "Everyone has their own distinct idea of the perfect shower – from temperature and pressure to position and spray mode, not to mention how it looks. We understand how personal it is, which is why we're offering a different choice for every need with Design, Comfort and Fresh. With a range of styles and features, all backed up by faultless engineering, we're confident our customers will be able to find the shower with the look and technology they'll love – day in, day out."
@IS_Gulf #IdealStandardGulf #IdealStandard #bathroom #shower