DALI Configurator Revamped
For fast and easy startup: The latest version of the DALI Configurator is built upon high working speed, a "ribbon" design and enhanced functions.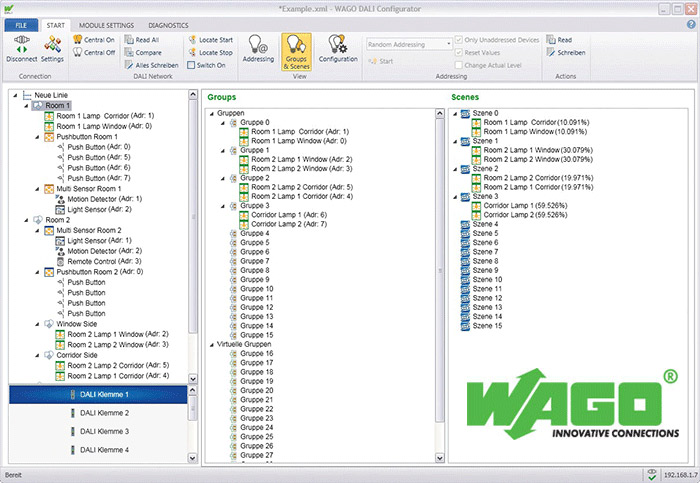 The DALI Configurator is an assistant software tool for the 753-647 DALI Multi-Master Module from the WAGO-I/O-SYSTEM 750. The latest version presents a number of design changes and new functions for intuitive configuration of operating devices, lighting groups and lighting scenes. The configuration software has also become leaner, for noticeably improved performance.

The new features of the graphical user interface include an improved layout of the functions and operating elements and a clearly laid-out three-column presentation of the tree structure, lighting groups and lighting scenes. DALI devices can be easily grouped or assigned to scenes in these areas using drag-and-drop. The modern "ribbon" user interface displays the fitting commands over a number of large tabs. Users profit from a better overview, fewer mouse clicks and easier handling. Use is also made easier thanks to helpful tool tips and an in-depth online Help function.

A new export function to the CODESYS development environment automatically transfers the designations of the DALI devices, group names and DALI addresses to the control system, omitting the need for repeated naming of the variables. At the same time, the configuration data for the DALI network can be imported to the DALI Configurator via Excel – with names, addresses and group information. Clearly laid-out diagnostics reports and project documentation facilitate the execution of maintenance or service tasks.