Installing Knauf AMF Ceiling Systems Makes Sound Sense
Ajyal Alfalah International School in the heart of Abu Dhabi opened its doors to national and expatriate students this September. The school aims to provide the highest standard of education in the area. Knauf AMF Ceilings played an important role in ensuring the school building has a positive influence on learning performance and the well-being of students and teachers.

Unwanted noise can be a problem in schools. Many schools are built using surfaces which exacerbate the problem by increasing the level of reverberation. Classrooms with high reverberation become too noisy making it difficult for children to hear and understand what is being said. Many other schools in the region are fitted with metal ceilings which provides less sound absorption and can create a poor acoustic environment for education.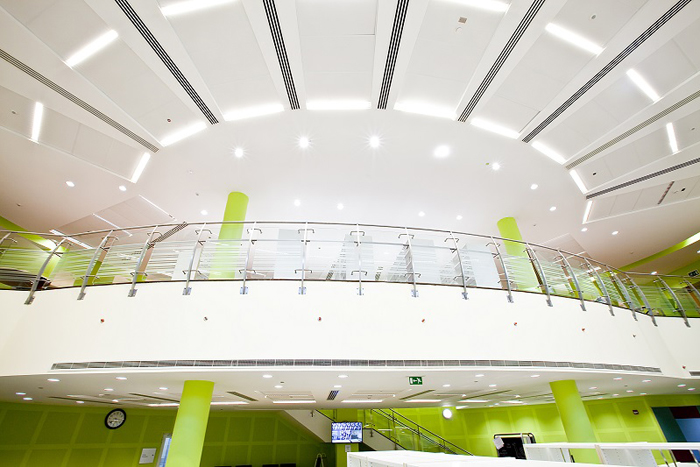 Designers at Abu Dhabi Education Council recognised the importance of good acoustics in the design of the school and explain why Knauf AMF was chosen to help create a calm learning environment. "We selected Knauf AMF to provide high-end acoustic ceiling solutions throughout the school. Their products meet the required Noise Reduction Coefficient of .90 with an impressive CAC rating of over 28dB in the classrooms and other learning spaces to help reducing reverberation and improving speech intelligibility. Knauf AMF provided us with the information and guidance we needed to meet the school's specification and we were impressed with how cost effective they are in spite of the full system being manufactured in Germany."

Around 7500m² Thermatex Antaris ceilings were fitted in the all the classrooms and the library. Thermatex Antaris is manufactured from mineral wool and its surface has an elegant smooth acoustic tissue providing the highest rating for sound absorption (Class A as per European Classifications). The combination of outstanding acoustic performance and fire resistance make Antaris ceilings an ideal choice for schools.

Thermatex Acoustic ceilings are installed in the school's corridors and other circulation areas. High insulation property of 41dB together with NRC .70 sound absorption help improve the acoustic condition in the neighbouring classrooms because they reduce noise disturbance caused by footsteps and voices in the corridors travelling through the ceiling void. Thermatex Acoustic 41dB ceiling tiles are 24mm thick and made from a specially perforated mineral board and an acoustic fleece surface. The perforations provide excellent sound absorption and the fleece offers a smooth, elegant finish.

Ajyal Alfalah is a contemporary school building designed with bright spacious areas. To help reduce energy consumption and contribute to the open feel, Thermatex Antaris and Acoustic 41dB ceilings provide high light reflectance of over 85%. The ceilings' surface reflects light coming in from outside back into the room, reducing the need for artificial light and creating spaces with lots of natural light and low glare.

Thermatex ceiling tiles are light weight and quick and simple to install. At the school, the ceilings are fitted using an exposed AMF Ventatec grid system. The tiles are demountable making it easy to access the void above for maintenance.

Knauf AMF has an impressive track record of working in the education sector. Their team are happy to advise on how to create the optimum acoustic environment for your budget.
Categories: