Lindner Integrated building solutions with guaranteed fire protection
Lindner offers fire protection solutions from one source: the suspended fireproof ceiling LMD F30 TIPmotion® with integrated luminaires, the wall cladding FIREwood as well as the NORIT-underfloor heating system provide certified safety and are a perfect match.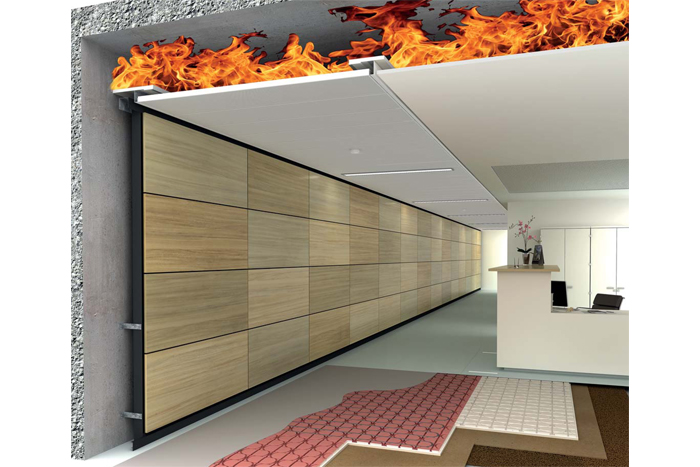 In many cases, fire protection has top priority in buildings. Thus, we offer sophisticated system solutions with guaranteed fire protection and create a secure combination consisting of:

Suspended fireproof ceiling LMD F30 TIPmotion®:
The independent fireproof ceiling enables a quick and easy operation by tipping on the ceiling elements. Thus, a quick alarm access for fire brigades is guaranteed as the ceiling can be opened without the need for any tools. Many connection details are tested for this system with a span up to 3000 mm.

Wall cladding FIREwood:
The gypsum fibre-reinforced composite panel with real wood veneer meets the highest aesthetic, fire protection and acoustic requirements. Their transparently varnished surface preserves the natural character of the real wood veneer. The composite wall cladding is available with the building material classification A2 and B1.

NORIT-underfloor heating system:
The NORIT-underfloor heating system is dry screed and underfloor heating system in one. Thus, the system combines the properties of a load distributing layer and the possibility to install heating tubes. The installation is facilitated by the proven and unique NORIT click system.

Wide-ranging areas of application:

New buildings and renovating old buildings
Escape and emergency routes
Hospitals
Office and administrative buildings
Schools and day-care centres
Besides certificated standard systems, we realise innovative project-related solutions according to customised requirements and creative demands.
Categories: