Lindner Metal Ceilings are Cradle to Cradle Certified
Lindner products were always meant to fulfil their intended tasks in the best possible way for a very long time and have been carefully developed and manufactured in a resource-efficient way. Now we are going one step further: following the Cradle to Cradle® principle, we increasingly consider the entire life cycle of products and their components.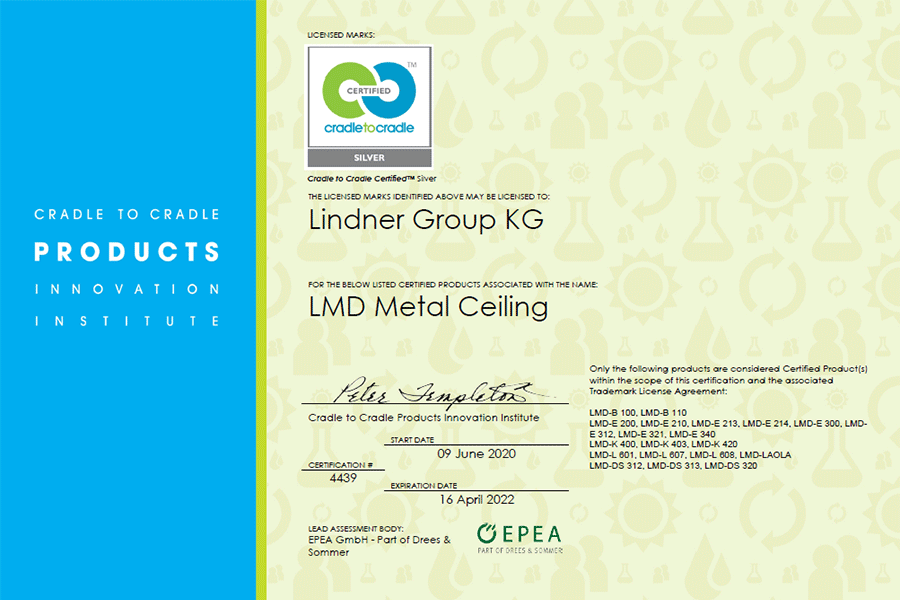 Our goal is to avoid waste from the very start of the cycle, meaning that products are designed in a way that their components are either reused directly or that they can serve as raw material for a different product while maintaining their quality level – a closed technical cycle. What may sound simple actually poses quite a challenge for complex system products, which are assembled from many different components, which themselves consist of all kinds of materials.

Thanks to continuous efforts in research and development, Lindner has laid the foundations for a closed loop of manufacture. NORTEC, the calcium sulphate raised access floor being the pioneer product, has now been joined by the LMD range of acoustic metal ceiling systems as Cradle to Cradle Certified™ Silver; another "Lindner first" worldwide!
Categories: