Lindner Middle East L.L.C. Finalist at The GAIA Awards 2015
The Big 5 International Building & Construction Show held at the Dubai World Trade Centre 23 – 26 November 2015 featured The GAIA Awards, contest where companies are encouraged to nominate their most environmentally-friendly and sustainable products.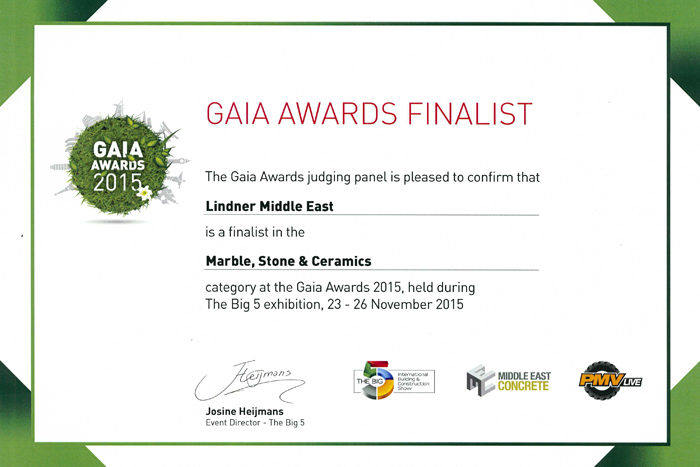 The Gaia Awards has grown into the industry's most respected awards honouring those construction equipment and products that have truly integrated the concept of moving towards a more sustainably built environment.

The front-runners were chosen from six categories including Coatings Adhesives & Sealants, General Construction, HVAC, Marble Stone & Ceramics, Windows Doors & Cladding and Innovations.

Entry for this year's event was strong with 40% more entries this year than last, but the quality of entry and products put up for consideration impressed the judging panel of five tremendously. The panel included:

Anwaar Al Shimmari, Director of Projects Planning Department at the Ministry of Public Works

Alaa K Ashmawy, Professor of Civil Engineering and Dean of the School of Engineering

Ahmed Bukhash, Director of Urban Planning at the Dubai Municipality

Stephane Le Gentil, CEO of Etihad Energy Services

Mario Seneviratne, Director of Green Technologies

The panel filtered the original 283 entries down to a shortlist of 54 and then to 18 - three finalists for each of the six categories. Judging in each of the final six categories took a full day each as judges pored over each submission.

Dr Ashmawy said, "It was very important to consider each of the entries carefully. Our key criteria focused on people - how each of these products enhanced the lives of the people they served; planet - the ecological and sustainable qualities of each entry, and the economical feasibility of the product. Entries manufactured in the region and that have an application here were also awarded points."

Lindner Middle East entered the NORTEC raised access floor system which, although not the selected winner, was ranked among the last three candidates in its category witnessing the outstanding environmental and sustainable properties of Lindner calcium sulphate products and their manufacturing processes. The high-quality panels for the NORTEC system are made from 99 % recycling materials - recovered paper, recycled gypsum and reprocessed water - thus being virtually emission-free as well as free from solvents and VOC.