Mas Paints - Damasco
Damasco is a special effect, water-based decorative paint for interiors. It is composed of acrylic polymer and pearl pigments that gives the silk brocade effect. It is inspired by the damask fabric that originated from the city of Damascus. The application of Damasco gives a smooth surface with 3d effect and not a flat colour finish like a normal paint does. This material is suitable for classical and contemporary interior design, bringing elegance and richness in any designed space.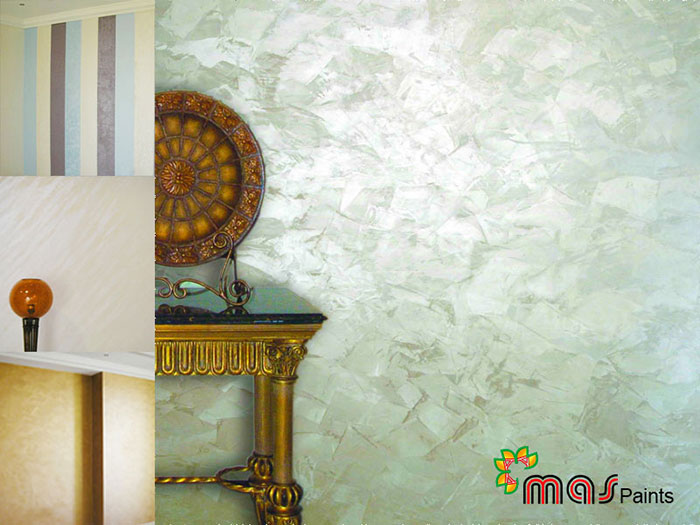 This product is easy to use and apply. The basic application of Damasco is mostly done by using a trowel. After applying two (2) coats of primer, two (2) coats of Damasco is suggested using the selected tool for application. The final coat is where the desired effect and technique would be visible.

The design is based on the type of application technique the painter made and the type of tool used while applying this material. There are also options for making other designs by using a small plastic trowel, sponge or leather cloth. It could be applied directly or diluted with 10% water. It is available in ½ kg, 1 kg, 5 kg and 25 kg pail. Its coverage is 5-6 square meters per kg and 2 coats are suggested for a desirable finish. For water protection and washability, Mas Protect in matte finish is recommended to be applied on top of the final coat of Damasco.

Damasco is available in a wide range of colors. The initial material is based on a neutral base, with the desired colour added. There is also an option, with the product's latest colour collection, where two types of colours are seen depending on the angle of lighting on the application.

Like other Mas decorative paints, Damasco has been ensured to pass the EU legislation in terms of VOC limits so it is friendly to the environment and has characteristics that prevents fungi and mildew growth.
Categories: