About 32/250 PU Insulated Panel
Brochures

32/250 PU Insulated Panel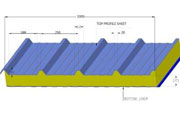 Sandwich Panels are available in Aluminium and Steel profiles. These panels are specially designed for building requiring high insulation values. The factory injected insulation core with polyurethane gives excellent properties.
MEI can provide a wide range of colors with reasonable period of time. A stock of fast moving color is available. Polyurethane insulation composed principally of the catalyzed products of polyisocyanate and polyhydroxyl closed-cell structure. It is used world wide as insulation against temperature extremes and has been adapted as one of the best energy material in the building industry.
07 40 00 - Roofing and Siding Panels
07 41 00 - Roof Panels
07 42 00 - Wall Panels
07 46 00 - Siding

Categories: cladding systems, insulated panels, insulation panels, sandwich panels, polyurethane insulation, 32/250, steel, aluminum, aluminium.