About Superseam
Superseam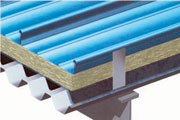 The standing Seam Metal Roof (Superseam) is one of the most exciting breakthroughs in roofing technology in the last 25 years. It fulfills the need for durable, puncture-resistant protection against the weather, while working in concert with the forces of nature. The system (Superseam) has potential to capture much larger share of the commercial and residential building market.
It assures adequate from rain, pounded water problems, leaks and other related troubles commonly associated with roofs. The Super seam will offer long term trouble free performance with little or no maintenance time or expense.
The panel fastening system is uniquely designed to handle the potentially damaging effects of thermal movement. Precisely-formed, mechanically profiled metal panels are locked in place by clips inside a raised seam standing 65mm above the roof surface.
The clips have a movable feature allowing the panel to expand and contract with temperature changes (float action). The concealed clip system means fewer through roof fasteners, reducing the chances of leaks.
07 40 00 - Roofing and Siding Panels
07 41 00 - Roof Panels
07 42 00 - Wall Panels

Categories: roofing, insulated panels, insulation panels, sandwich panels, polyurethane insulation, galvanized steel, aluminum, aluminium.