About Fire Rated Rolling Shutter
Fire Rated Rolling Shutter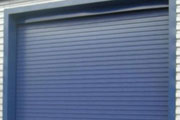 MEI are the authorised resellers of IRSP, UK. IRSP-Fireflex, Radiant heat protecting fire shutter doors - protection from combustibility. The incredible IRSP Fireflex is an obvious choice for situations where increased risk of fire is a major concern. Fireflex provides a substantial safety barrier between the source of the fire and any precious or dangerously flammable stock.
Fireflex fire shutter doors are the perfect application for hospitals shopping centres & various industrial applications Fire shutter doors designed for external or internal applications where increased fire protection is required. It provides incredible radiant heat protection with a sole reliable operation through a simple control panel that can be adapted for a range of activation methods.
Safety is of extreme importance when complying with the Provision and Use of Work Equipment Regulations. As with any form of motor driven door, all FIREFLEX fire shutter doors are fitted with safety brakes coupled with a suitable drive ratio so as not to activate when the door is closing in controlled descent.
IRSP Fireflex doors are custom made to fit any opening, are available in galvanised steel and can be powder coated to suit any project regardless of its complexity. IRSP uses the same basic components throughout its range of roller shutter applications. This design ethos means that all of IRSP's doors have been thoroughly tested in a variety of real life situations as well as being extensively tested in our workshops before being made available for sale. IRSP is a name synonymous with the highest quality door products. Tested to BS 476 Part 22: 1987 Test Report 220737 The IRSP Fireflex fire shutter doors will provide an incredible 96% more protection from a radiant heat source than a standard single fire roller shutter.