About Rolltech Rolling Shutter
Brochures

Rolltech Rolling Shutter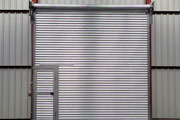 A cost effective solution to meet the requirements of a better Rolling Shutter for Garage and Industrial application, whether it is Aluminum or steel, manually or electrically operated. The system is tailor made to meet the correct specifications and requirements of the customers.
The doors are available in four major varaints like Steel/Aluminium, Extruded Aluminium Slat, Slat with ventilation and Insulated Salt. Slats are produced under ISO 9001-2008 quality procedure meeting all international standards.
We use technologically advanced hardware, accessories from the world renowned manufacturers in Europe. The optional add-ons contains electrically operated with push button switch, with manual crank override, with wireless remote control and manual with chain hoist, security lock, manual crank operations etc.
10 71 00 - Exterior Protection