New flexROOM Weather Distribution Box
WAGO's flexROOM Weather Distribution Boxes allow quick and easy connection between weather data and building control applications.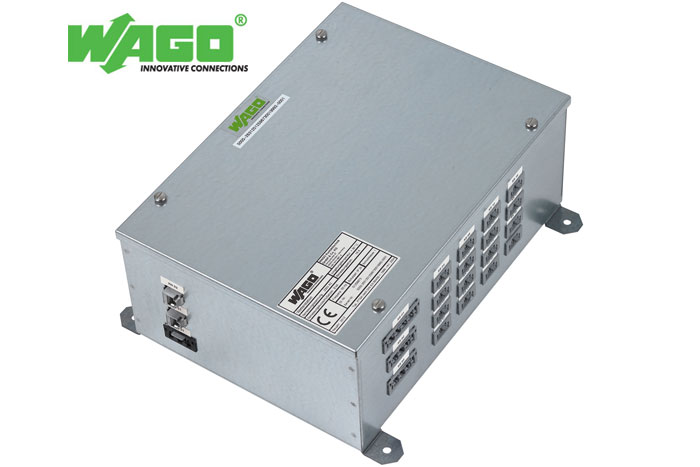 A new standardized flexROOM Weather Distribution Box joins WAGO's flexROOM Series. Developed for building automation, flexROOM distribution boxes support lighting, shading and individual room control. The new box easily collects and processes weather data, while providing information directly to the office distribution box.
It also features a time-switching function that enables operators to centrally control various switching operations for room automation via up to 10 channels. This allows switching processes or setpoint changes for lighting, shading and individual room control (heating/cooling) to be initiated and processes for day/night/week-end or vacation mode to be defined.
Comprehensive data (e.g., temperature, humidity, brightness, twilight) from external weather sensors, as well as wind speed/direction from wind sensors, can be successfully integrated via analog and digital inputs equipped with WINSTA connectors. Limit value monitoring for wind alarm and frost protection ensures that external blinds are moved into a safe position in the event of extreme weather conditions.
The system operator can also define up to 64 different building facades, allowing the blinds and slats to be moved into seven different positions depending on the height and direction of sunlight. Thus, optimal lighting conditions are present in the building throughout the year, without any disturbing glare. By integrating these functions into room control applications, flexROOM provides important prerequisites for compliance with energy efficiency class A in buildings according to DIN EN 15232.
Like all flexROOM distribution boxes, the new weather distribution box is user-friendly and easy to configure. All settings are performed using any PC and standard Web browser via parameter setting and mouse click. A uniform hardware configuration and software application simplify planning, commissioning and conversion – without any programming.