New on AEC Online: Decorative Ceiling Tiles, Inc.
Decorative Ceiling Tiles, Inc. specializes in unique ceiling décor. Mainly ceiling tiles made from various materials. Tin Plated Steel, Aluminum (comes in 75 different colors), Solid Copper, Faux Tin (PVC), Styrofoam, Faux Leather. Our products can decorate drop ceilings, drywall ceilings, plaster ceilings, pop corned ceilings and also used on walls etc.

Need to a custom job done, replica? We can do that too. Are you not in the US? We can ship worldwide all of our products. Our customers are very important to us and we work hard and long to accommodate all their needs in timely manner. Accredited by Better Business Bureau with A-rating due to our company age.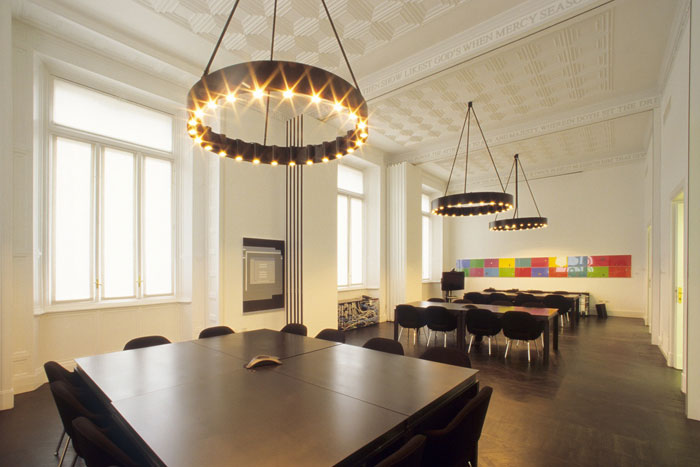 Meeting room in Italy with parquet flooring and our White Matte Ceiling Tiles
Are you a do-it-yourselfer looking to create a beautiful, three-dimensional ceiling or wall in your kitchen, basement, or living room? Maybe you're thinking about this elegant solution for your office, restaurant, or other retail space. Whatever the case may be, our decorative ceiling tiles are an affordable and easy-to-use option for any space. Choose from Styrofoam or faux tin/PVC in a variety of colors, styles, shapes, and sizes that look just like authentic antique ceiling tiles. We have it all for you at Decorative Ceiling Tiles. Take a look around and see what we have to offer!

If you're a more experienced ceiling installer, consider our beautiful metal ceiling tiles. Cheap and easy to install, these decorative ceiling tiles are made of affordable tin or aluminum. You could choose our nail-up, glue-up, or drop-in antique ceiling tiles made of aluminum or tin, or you could go all the way to luxurious solid copper. Our faux leather tiles are great for walls, headboards, and decorative ceilings. This beautiful material not only adds a great deal of style to your space, but it also dampens sound. Imagine all of the compliments you will receive when your family and friends see your stunning new ceilings. Why choose any other place to shop online and buy decorative ceiling panels for your home? Our commercial decorative tiles will make your space look elegant, stylish, and beautiful. Make Decorative Ceiling Tiles your one-stop supplier of decorative ceiling panels.

But don't let your creativity stop at ceilings and walls. Our decorative ceiling tiles have been used for everything from beautiful photography backdrops to elegant and stylish television and music awards show sets. Our Styrofoam ceiling tiles are the perfect choice for these situations, and there's not much involved to install them. Installation only requires a few tools and handyman knowledge to set the perfect scene.

Subscribe to our newsletter and take advantage of the many offers and ideas we provide to our customers. You can also contact us toll-free at 1-866-297-0380 to ask us more about our amazing selection of decorative ceiling tiles. Let us help you make your space shine!
Categories: