Customer Testimonial by Nancy Seltzer from Regency Tower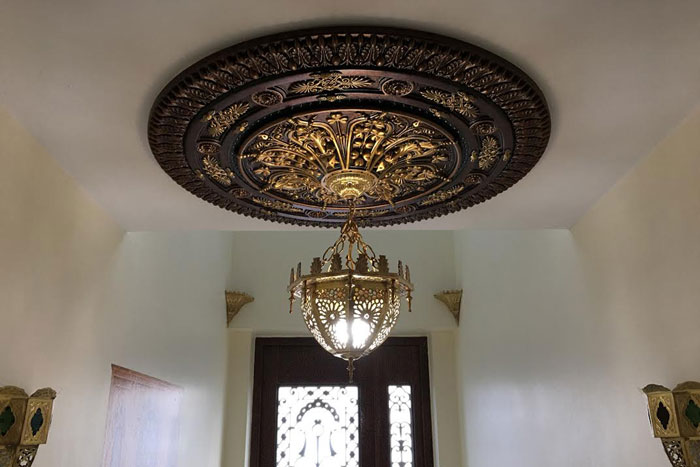 Arabic Caprice II – FAD Hand Painted Ceiling Medallion – #CCMF-116-2
PRODUCT DESCRIPTION
Ceiling Medallion is fully hand painted by a professional artist.
Finished in metallic colors to match chandeliers, lights fixture and ceiling fans.
Can be used for interior and exterior settings. Can also be washed.
Medallion is made of polyurethane that last forever.
Made in U.S.A.
Lifetime warranty
DELIVERY LEAD TIME PER QUANTITIES:
Please be advised that this is a hand painted job and is very time consuming, see time per quantities below.
1 - 10 Medallions: 7 - 10 days.
10 - 50 Medallions: 15 - 21 days.
100 + Medallions: 1 - 2 Months.
HOW TO FIT THE CANOPY IN YOUR NEW MEDALLION
In most of the ceiling medallions, the design close to the center area allow to place a canopy wider than the inside diameter that come from factory, that's the maximum diameter that a canopy can fit, a small design area around the hole might be covered but you save the canopy (recommended), other option is to replace your canopy for a smaller one that fits the inside diameter.