Novacolor and San Marco
Al Fajer Establishment is participating in INDEX 2015 Exhibition which is starting from 18 to 21 May at the Dubai World Trade Centre.

INDEX Exhibition attracts a highly relevant and motivated target audience, including: architects, interior designers, interior architects, retail managers, purchase managers, manufacturers and suppliers and procurement managers.

Al Fajer Establishment is sole distributor for Novacolor and San Marco in the Middle East from last 8 years.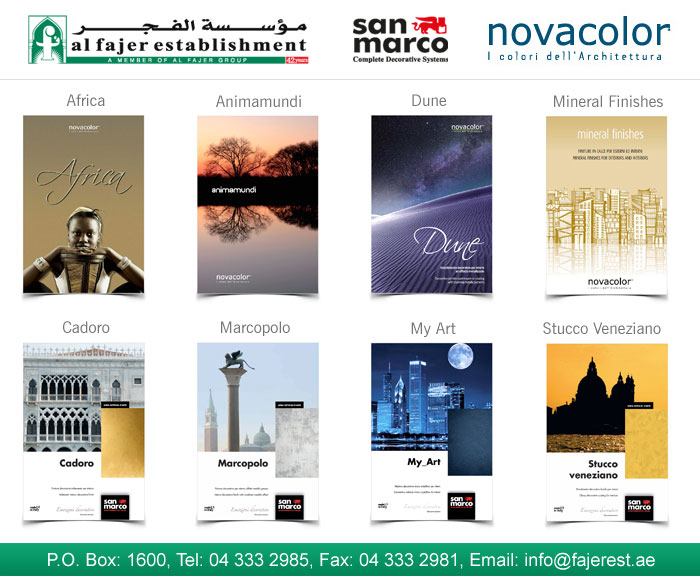 San Marco and Novacolor are high end decorative paints company from Italy. All over the world, the most evolutes architects and designers, as well as the general public, choose San Marco as we expertise for the last 50 years of continuous growth, owing to our focus for technological and innovative products. Our products can be the best solution to decorate luxury hotel suites, commercial centers, old stylish villas, elegant boutiques.

A complete range of quality decorative products it's available with us in base form or coloured with a special San Marco and Novacolor tinting system. The decorative products like Stucco Veneziano, Marmorino Classico, Marmo Antico, Grasseello di Calace, Sil-tech Perlaceo, Cadoro, Marcopolo, decori Classici etc. Our expert team of technicians and appliers contribute to the timely completion of projects to the satisfaction of all.

Novacolor Product List

DUNE – Decorative architectural trowel on coating with stunning metallic patterns.
SWAHILI – Decorative textured metallic decorative finish for interiors, available as silver and gold base.
ANIMAMUNDI – A gently metallic texture for interiors, with soft pearl effects.
ERA VENEZIANA – Mineral decorative Lime-based glossy stucco finish for interiors. For interiors on adequately prepared surfaces.

MARMORINO KS – Mineral decorative lime-based finish for smoothing and finishing with a satin effect for interiors and exteriors.

TEODORICO – Mineral decorative lime-based coating with gold, silver or bronze highlights for interiors and exteriors.

MI-KU – Decorative textured coating for interiors with a strong "materic" feel
ARCHI+CONCRETE – Mineral plaster coat in powder for interiors and exteriors for cement effects.
LUCE WALL PAINTING – Decorative coating for interiors with soft metallic patterns.
IRONIC – Decorative coating with rust effect for interiors and exteriors.
WALL2FLOOR – Cement based product
SKIN – Printed sheet in "crocodile" or "python" patterns, available in single 140x140cm sheets. For luxury interiors.

NOVALUX E – Top quality water-based washable paint for interiors and exteriors.
PAINT FOR INTERIORS - Water-based paint with high coverage for interiors.

Categories: