Opening of Berlin Brandenburg Airport BER - Lindner's Fit-Out Part
On Saturday, the first aircrafts landed at the new BER airport in Berlin-Schönefeld. It offers direct connections to Germany, Europe and the world. Lindner completed the main interior fit-out work by mid-2012.

Berlin's new airport BER consists of a passenger terminal and the so-called Airport City in the middle of the parallel runway system. Moreover, there are maintenance areas in the west and service and cargo areas in the east.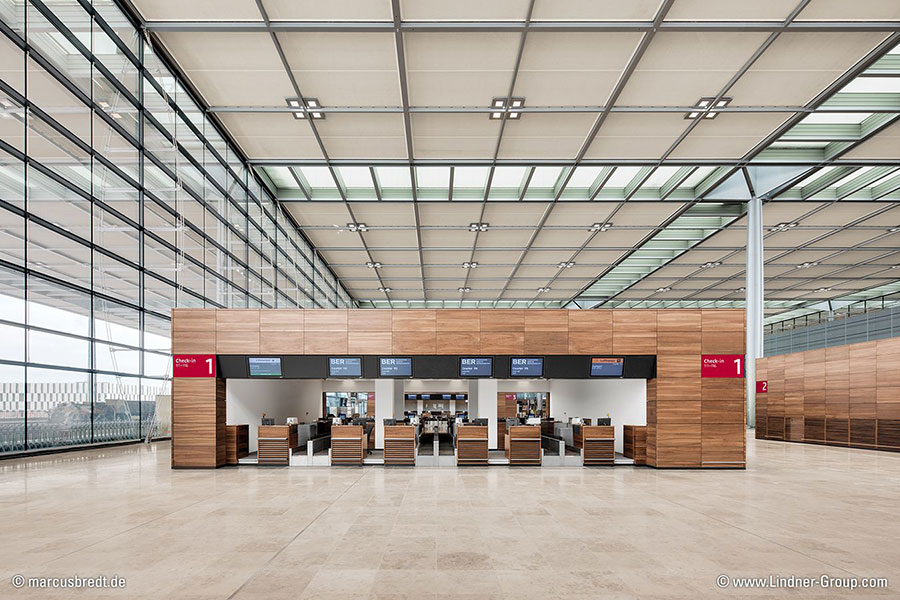 In addition to the check-in terminals, Lindner implemented 127 boarding desks, 45 passport control points, 6 information points, a VIP lounge and tea kitchens. Moreover, passenger guidance made of glass and stainless steel, security gates and room-in-room solutions were realised.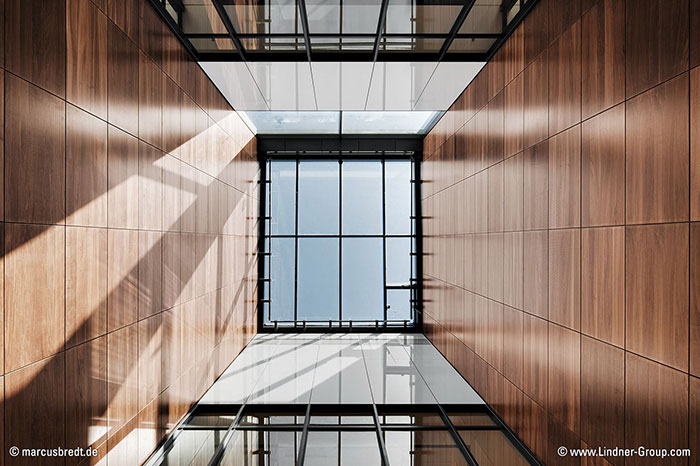 The walnut-veneered wall claddings of the counters, partitions, etc., form a central design element of the fit-out in the main piers to the gates. A total of around 30,000 m² of veneered Lindner FIREwood and FIREwood acoustic panels were used. The latter are covered with acoustic fleece and provided with a total of 480 million holes, which were drilled in shifts. They ensure a comfortable volume level.

About 350 doors with and without fire protection and explosion protection, partly made of stainless steel and realised as sliding doors, 140 tons of steel construction, etc., inter alia, for the shop facades, and approx. 4,000 m² of glass wall cladding and roller shutters rounded off the order. Many built-in products, such as the wall claddings, were manufactured by Lindner in-house.
@Lindner_Group #Lindner_Group #Partitions #Flooring
Categories: