PENETRON Technology Helps Expand Water Supply
PENETRON crystalline technology ensures the durability of the new Webster Water Treatment Plant – the central component in the East Side Water Supply Project (ESWSP). The Monroe County Water Authority officially commissioned the new plant and tunnel system under Lake Ontario.

Located in western New York State on the shores of Lake Ontario, the ESWSP is the biggest improvement to the region's water supply infrastructure in decades and provides critical capacity to the Monroe County water supply. The 3 ½-year construction project began with the excavation and construction of a vertical intake shaft several hundred feet deep, far under the shores of Lake Ontario, where a giant "mole" carved a one-mile long, 9-foot (2.8 m) wide tunnel out of solid bedrock.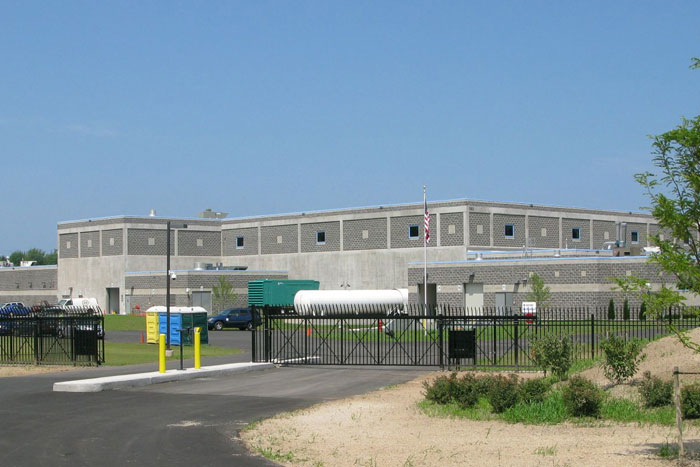 The completed Webster Water Treatment Plant (WTP), which treats water from Lake Ontario for the residents of Monroe County, NY
MILES OF TUNNELS
Today, the tunnel draws up to 50 million gallons a day of fresh raw water to supply Monroe County's new Webster Water Treatment Plant (WTP). After coming through the tunnel, the water is pumped three miles farther to the Webster Water Treatment Plant where it is purified in a multi-step process before being distributed to residents across the county.
"PENETRON crystalline waterproofing materials were specified for multiple stages of the project to ensure that the new water treatment plant and the new components would have the highest levels of concrete waterproofing and durability,"
adds Christopher Chen, Director of The PENETRON Group.
"In addition, PENETRON materials are non-toxic and approved for potable water applications."
CRYSTALLINE TECHNOLOGY OPTIMIZES DURABILITY
The concrete in the new water treatment plant, including the clear well, contact tanks and pipe tunnels, was treated with an application of
PENETRON
, a surface-applied, integral crystalline waterproofing material.
PENETRON ADMIX
was used to treat the concrete utilized in the deep tunnel shaft of the raw water intake areas and the pump station, along with PENETRON and
PENECRETE MORTAR
to optimize concrete durability and to protect the critical parts of the intake shaft.
"The added durability of the PENETRON-treated concrete used in the expanded infrastructure and the new water treatment plant will ensure the residents of Monroe County can count on a secure and sufficient water supply for many decades,"
says Mr. Chen.
Categories: