Project Planning Made Easy: Hansgrohe launches 'iSpecify' tool at Downtown Design
Hansgrohe, the German bathroom specialist, has unveiled "iSpecify" a new website for architects, interior designers, and bathroom planners, which allows for easy and efficient project specification with Hansgrohe and Axor products at Downtown Design.

"It works intuitively — this was absolutely key for us when we developed the service," Dr. Nicholas Matten, Director of Global Project Business at Hansgrohe SE, explains. "During the development process, we continuously collected feedback from architects and interior designers in order to better align the services "iSpecify" could provide with the needs of this specific target group."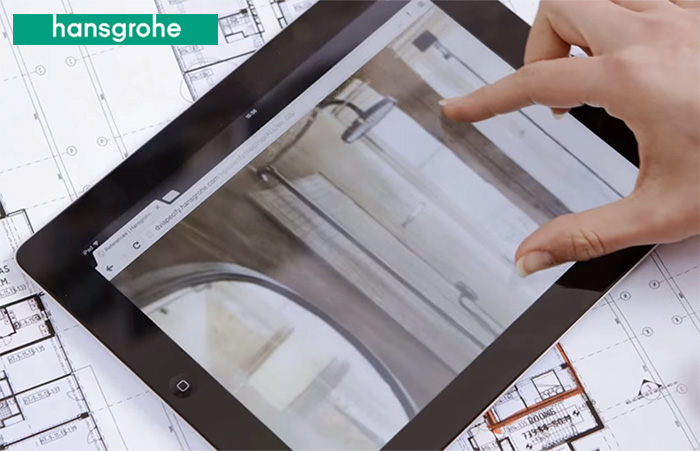 After a successful, eight-month development and implementation phase, "iSpecify" has gone "live" in October 2014.Visitors at Downtown Design will be able to register for the online tool and test-drive the application through the iPads installed at the Axor stand at the show with a projector to see the results on a larger screen.

Dirk Schilmoeller, Sales Director Middle East for Hansgrohe, "Our new website –"iSpecify" has innovation at the core and we are pleased to have it introduced in Middle East at Downtown Design that represents originality and creativity."

"iSpecify": A Time-Saver and Direct Line to Hansgrohe
Via an easy-to-follow navigation bar on the homepage, the user has the option to begin planning in a number of ways. "iSpecify" enables inspiration by simply browsing through a selection of global references. Alternatively, he can view different bathroom areas, or search for specific products. If the user clicks on one of the pre-specified bathroom situations for the shower or the washbasin, the program immediately suggests a selection of suitable Axor or Hangrohe products — including links to technical data and dimensional drawings.

"The appeal is that the user can create complete projects, which lend themselves to modification as desired, and which can be viewed and worked on by the responsible Hansgrohe project consultant," Dr. Nicholas Matten explains. "This not only helps to avoid planning mistakes, but it also saves a tremendous amount of time, and, above all, a lot of coordination efforts between the architect/interior designer and the Hansgrohe project consultants,"

Dr. Matten concludes. User data is stored in personalized profiles, meaning that after a short registration process in "iSpecify" every person has their own private space.