RollMatic rolling grille - compact design, optimal for store grilles in confined spaces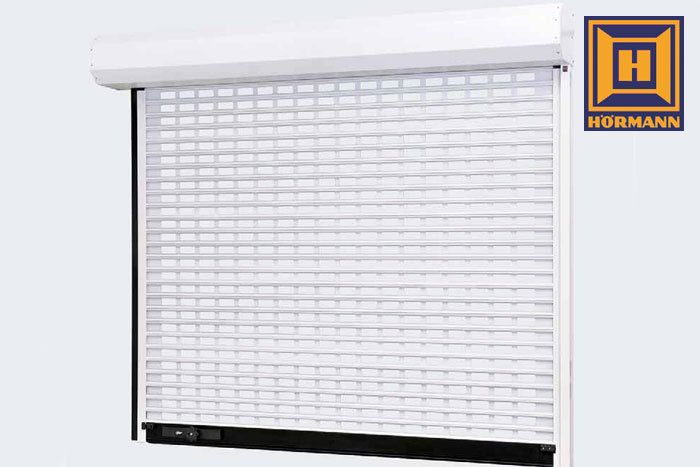 Thanks to its compact design with a maximum required headroom or fitting depth of 335 mm, the new RollMatic rolling grille is the ideal solution for store grilles in confined spaces.
Two curtain variants can be selected. Both versions are available in a milled or brightrolled finish, or many RAL colours. Find the perfect rolling grille colour for a harmonious overall appearance.
Manually operated or with operator
Operated via pull chain or pull cord with manual operation, or automatically with an operator. Thanks to the standard power limit, neither a closing edge safety device nor a lintel trap guard is required. The operator is integrated in the shaft cover for a compact design. The required side room for the door is only 100 mm or 200 mm on the operator side.
Reliable and safe
Proven tension spring technology ensures easy manual operation of the door. On doors with operators, this technology supports the operator during opening and closing. Double cabling additionally protects the door from crashing to the floor.
Break-in-resistant fastening
The standard extraction retainers on the sides of the curtain reliably hold the door in the side guide. They protect against break-in attempts that involve pushing the rolling grille curtain out of the side guides.
Securely locked
Manually operated rolling grilles can be securely locked using a lockable bottom profile with profile cylinder, which can be actuated from the interior or exterior. Alternatively, the grille can also be locked using a shoot bolt. For doors with operators, the operator prevents the curtain from opening. Additional security is also provided by the lockable bottom profile and the shoot bolt.