About Gyproc Habito Plasterboard
Gyproc Habito Plasterboard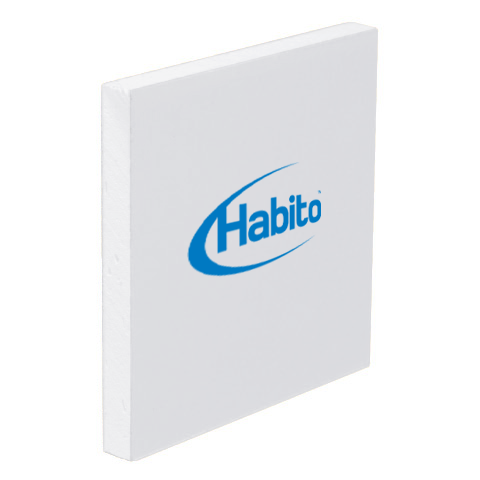 Gyproc Habito board is a next generation plasterboard suited to all kinds of project requirements.

It looks and handles like regular plasterboard, and has all of the speed and performance benefits expected from Gyproc boards – but that's where the similarity ends.

New patented technology and an exceptionally strong solid gypsum core has produced a board that not only has improved fixing strength but has a robust high strength, low maintenance surface that will take the knocks and bangs of everyday life - even in challenging environments.

With Gyproc Habito plasterboard you can fix and move shelves, cupboards, cabinets, medical equipment – so updating and restyling interior layouts as needs or fashions change is quick and easy.

Fixability
You can now fix heavy items directly into the board without using any specialist fixings or support. Gyproc Habito makes fixing cupboards, TV's, hospital screens, equipment and everyday objects like fire extinguishers, frames, curtain poles etc, very simple and secure.

Impact
Habito's patented technology and high strength solid core means it's very strong and much more resistant to damage from knocks and scrapes. Everyday impacts from children playing, wheelchairs and trolleys, guests suitcases and even general wear and tear – can take it all in its stride.

Habito boards require less maintenance and repair, saving time and money and keeping prestige interiors looking good for longer, creating healthier and more comfortable interiors, for its building occupants.

Excellent Acoustics
Habito's dense gypsum core and robust construction means it's great at cutting down unwanted sound from noisy activities or equipment in adjacent rooms or corridors – creating a relaxing environment for guests; helping patients to recover more quickly or simply making homes more comfortable.

Easy Installation
Habito boards can be handled just like standard boards.

Despite their special gypsum core, they are easy to cut using a plasterboard saw or by double scoring with a sharp knife and snapping the board over a straight edge.

To fix Habito boards directly into Gypframe metal section, use Habito screws, specially designed for these boards.

Sustainable
With new generation Habito boards, you get all of the sustainability recyclability benefits of standard plasterboard in a fast, dry-build solution that saves both time and money. It's a great way of meeting those increasingly tough sustainability targets and earning valuable green credits, whilst building faster and more efficiently.

06 16 00 - Sheathing
09 20 00 - Plaster and Gypsum Board
09 21 00 - Plaster and Gypsum Board Assemblies
09 28 00 - Backing Boards and Underlayments
09 29 00 - Gypsum Board