Schneider Electric's 'Power to the Cloud' Event Set to Boost Regional Smart Technology Deployments
Barcelona City Council CIO Manel Sanroma and other global experts to Elaborate on 'Making Smart Cities a Reality'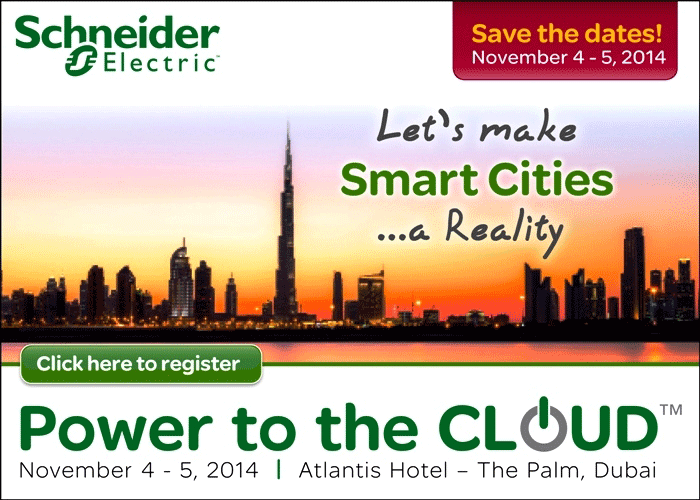 Schneider Electric, a global specialist in energy management, will showcase the deployment of smart mobility, IT, infrastructure and energy solutions across key verticals at its annual 'Power to the Cloud' conference and exhibition themed 'Making Smart Cities a Reality.'
To take place on 4-5 November at Atlantis-The Palm, the third consecutive edition of the event is anticipated to draw more than 1,500 trade visitors from around the Middle East, Africa, South East Europe and Turkey.

A large prefabricated modular datacentre and Schneider Electric's proposed display for EXPO 2020 will serve as key highlights of the 2,500 square meter exhibition area. In addition, the space will spotlight smart buildings solutions, energy efficient home automation systems, smart public services such as security and mobility, smart grids and integrated cloud management platforms.

Keynote addresses by Barcelona City Council CIO Manel Sanroma and other global experts will set the tone for a series of deliberations on smart technology for urban efficiency in the conference component of the event. Additionally, over 100 regional CIOs and VIPs will participate in an exclusive session to discuss about industry trends and latest developments on smart city deployments globally.

Benoit Dubarle, Country President - UAE, Oman and Pakistan, Schneider Electric, said: "Schneider Electric is committed to implementing world-class smart city executions through our innovations. By converging our partners' state-of-the-art technology solutions, we strive to bring quality smart products for all verticals in the GCC region. Power to the Cloud 2014, the largest smart city gathering in the MEA region, provides an invaluable platform to discuss the headway made in Schneider Electric's smart city research and development. We will also reveal our plans for the next phase of implementing Dubai's vision."

Thierry Chamayou, Vice President –Middle East, Africa, Turkey and South-East Europe, IT Business, Schneider Electric, said – ''Power to the Cloud 2013 attracted over 1,300 professionals and influencers from the IT and government sectors. In 2012, the event drew the attendance of more than 600 IT professionals from across the region. The event has become one of our biggest platforms globally to address our complete technology portfolio and our thought leadership position that we carry in the industry. Attendees can expect a never before scale of a smart city event encompassing our smart city offering both from products & applications as well as from a content driven conference.''

Professionals and trade visitors looking to attend the 2014 edition are invited to register for free on the event website.
Categories:
26 - Electrical