SMD Terminal Blocks up to 1.5 mm2 (AWG 16)
For industrial applications and LED modules: WAGO has added the new 2061 Series PCB terminal blocks to its SMD family of products.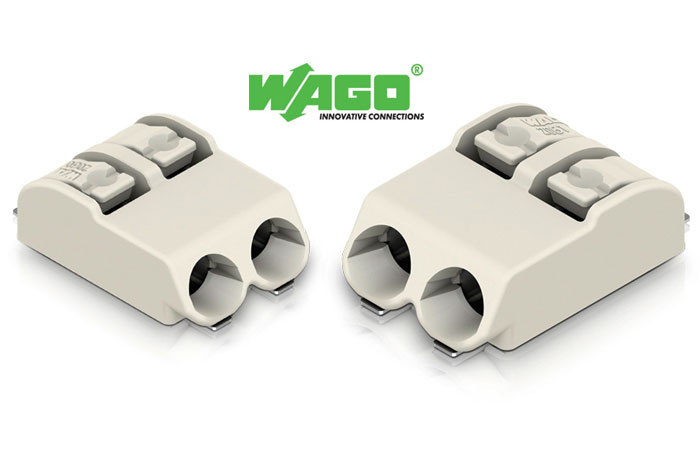 Following 2012's successful introduction of its 2060 Series, WAGO will launch its second series of SMD terminal blocks in summer 2013. WAGO's 2061 Series SMD Terminal Blocks accommodate wire sizes from 0.5 to 1.5 mm2 (AWG 20–16). IEC ratings of 12 A/630 V (300 V per UL 1059) make 2061 ideal for industrial applications and direct supply of LED modules.
The 2061 Series SMD Terminal Blocks are available in 1-, 2- and 3-pole versions, with 6 mm pin spacing. They can be arranged side-by-side without loss of polarity, thus greatly reducing the number of versions required, while also minimizing supply inventory and production costs. Just 5.6 mm high, 2061 Series features a light color housing that minimizes on-board LED shadowing. As with the 2060 Series, the 2061 Series is available in tape-and-reel packaging for automated SMT PCB assembly.
CAGE CLAMP® S Spring Pressure Connection Technology provides push-in termination of solid and ferruled conductors, as well as push-button actuated termination of fine-stranded conductors. "Termination is extremely simple: While the push-button is actuated from the top, the conductor is inserted or removed from the side. This arrangement provides unimpaired access to the conductor entry", explains Jens Brandhorst, ELECTRICAL INTERCONNECTIONS Product Manager at WAGO Kontakttechnik GmbH & Co. KG.
WAGO's 2060 and 2061 Series are the industry's most compact and easy-to-use SMD terminal blocks for industrial applications and direct LED module supply.