Techno-Mix introduces a Dynamic Trigger Shattaf with water saving technology.
Techno-Mix always strive bring forth the excellent quality products in a very reasonable price. Dazzling range of bathroom accessories, mixers, sanitary fittings and etc.
Techno – Mix with joint innovation process implementing involvement of customers, end users, and advanced Technology from selected first class suppliers aided by a reputable German component & devices know-how, Techno-Mix recently developed new Dynamic Trigger Shattaf based on the in-depth knowledge of the market requirements and applicable water saving technology.
Equipped with German components, this hand-held and trendy design DYNAMIC TRIGGER SHATTAF set includes a Brass Spray Head, Anti-Twist PVC Techno-flex Hose and Wall Bracket.
As we are very particular of our consumers hygiene, our high quality brass mechanism and advance anti-stain formula, DYNAMIC TRIGGER SHATTAF Spray head is tailored hygienically and plays a leading role in fighting against easily acquired infections.,
Aerator, as a key component in the overall performance of the spray head, has proved their functionality in controlling the stream straightness, diameter and reducing splash by aerating the stream and eliminating side spray.
As optional water saving function, DYNAMIC TRIGGER SHATTAF can be supplied with advanced German Technology of Pressure Compensating Aerator (PCA) 6L/min or 9L/min.
Developed by leading sanitary Germany Company DYNAMIC TRIGGER SHATTAF is equipped with Techno-flex Hose, 125 cm, Anti-twist Cone made of Brass Chrome Plated.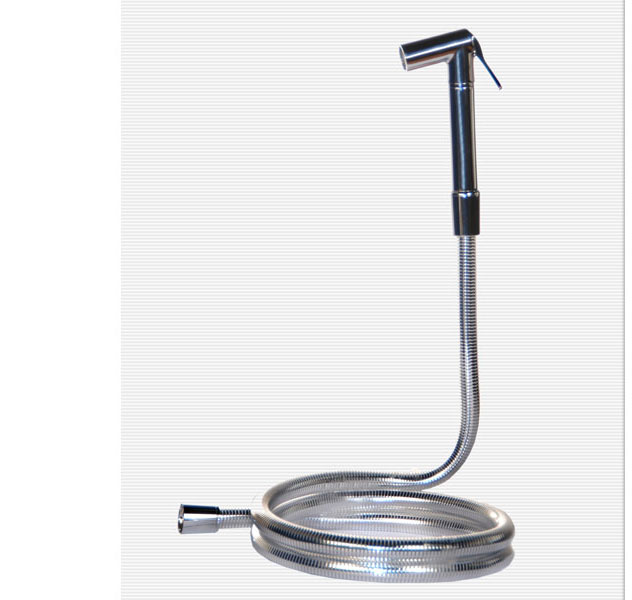 Cass 4 chromed TM-ABS wall bracket specially designed for Shattaf head to best fit the cone of Techno-flex hose and grip DYNAMIC TRIGGER SHATTAF with elegance.
DYNAMIC TRIGGER SHATTAF implies durability as it surpasses extensive evaluation and analysis from nationwide rating system. Moreover, it conserves water and reduces energy costs and in convention with the local plumbing codes and standards.
For complete sanitary solution, please visit our website.