The Ideal Shower Experience for Everyone at Touch of a Button
Hansgrohe Introduces New Croma Select Range of Showers with Select Technology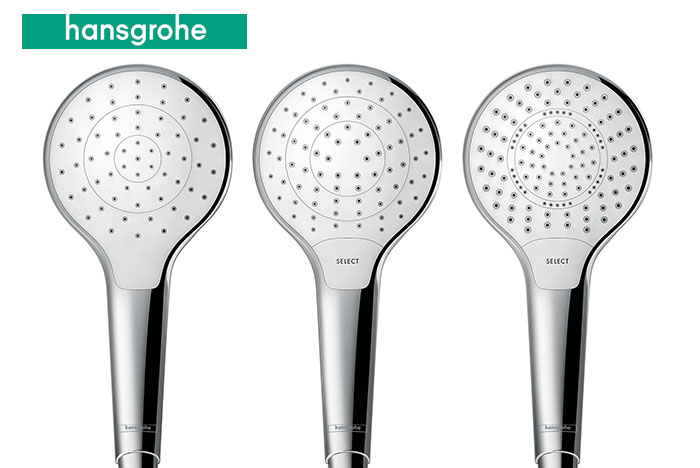 Hansgrohe SE, the German bathroom specialist has set new standards in price and performance with its innovative Croma Select range, which now features Hansgrohe's clever Select technology. Allowing a choice of sprays at the touch of a button, easy handling, a generous rain spray, and new jet types make for a more enjoyable and pleasurable experience in any bathroom. Showerheads are available in two different designs, round (S) or square with rounded corners (E).

Multi or Vario: the Right Spray for Everyone
"Croma hand showers are some of our best-selling products," explains Steffen Erath, Product Manager for the Hansgrohe brand. "We've now taken this very popular line a step further. The new Croma Select hand shower features an ergonomically designed long and slender handle, and its integrated Select button couldn't be more practical." A click of a button is all it takes – switching from one kind of spray to another is easy, even when the hand shower is attached to the wall bar.

Multiple functions at the touch of a button cater to a variety of showering needs. Customers can choose from three models and two different designs (E and S). The Croma Select Multi hand shower offers individualized showering fun with three different spray types: a soft rain shower, a powerful IntenseRain mode and a pulsating water jet massage. The Croma Select Vario hand shower can regulate spray intensity, from a soft rain shower to the forceful TurboRain mode. An inexpensive option suitable for use in the bathtub, for example, is the single-jet Croma Select. Croma Select hand showers have a gleaming chrome finish and the spray face is available in white or a combination of white and chrome.

An All-round Talent for Bathrooms of all Sizes
The Croma Select range brings variety to every bathroom. The fixed Croma Select 180 2jet overhead shower in versions E and S indulges the user with a choice of two spray modes: a strong and invigorating rain spray and the concentrated IntenseRain mode to rinse out shampoo, for example. The Select button makes it easy to switch between the two. The overhead shower, 180 mm in diameter, is available in two finishes: all chrome or chrome with a white spray face.

A Shower System Especially for Bathroom Remodelling Projects
As an attractive complete package, the Croma Select 180 showerpipe combines all components in one system: an overhead shower and hand shower with Select technology in versions E and S, an adjustable shower holder, a hose, and the Hansgrohe Ecostat Comfort thermostat, which allows a precise setting of desired temperatures. The showerpipe is also available with a single-lever mixer. The shower system can be easily installed using existing plumbing connections, with no need for new wall tiling, and it is therefore an ideal solution for remodelling bathrooms.

The horizontal shower arm attached to the wall bar swivels 120 degrees and the overhead shower has a flexible ball joint so that it can be tilted in any desired direction, allowing water to flow wherever it is needed. The hand shower and the overhead shower both feature the intuitive Select button that allows users to easily switch between the different kinds of spray. The Croma Select 180 showerpipe system stands for convenience, design and showering pleasure in the bathroom. It is also attractively priced. High functionality and aesthetic and timeless design make the showerpipe a long-lasting product that fits perfectly into any modern architectural setting.

The new Croma Select SemiPipe offers even more convenience and safety for all target groups. It consists of a wall bar, a hand shower and a hand grip which can be used to facilitate safe access to the shower area. If desired, it can also be combined with the Croma Select E or S hand shower.

Easy to Clean and Water Efficient
All Croma Select showerheads are equipped with anti-limescale QuickClean technology, making them easy to clean. Any limescale deposits can simply be rubbed off the flexible silicon knobs with one's fingertips. The filter is easy to clean too. Croma Select hand showers and overhead showers are also available with EcoSmart technology. A flow limitation system and a flow-optimized spray face reduce water flow to nine liters per minute. This means that less energy is needed for hot water, which not only saves money, but also helps our environment.
Categories: