The Lindner Group - a Sustainable Green Building Partner
The Lindner Group is Europe's leading company for interior fit-out, facade construction and insulation engineering with more than 45 years of experience in 'Building New Solutions', the development and implementation of individual, high-quality project solutions. With a workforce in excess of 6000 worldwide, Lindner manages production plants and subsidiary companies in more than 20 countries from its head office in Arnstorf, Germany and is present in all the Middle East with Lindner Middle East L.L.C., operating from Business Bay in Dubai and providing Architects, Consultants and Clients with dedicated technical solutions for all Lindner interior fit out products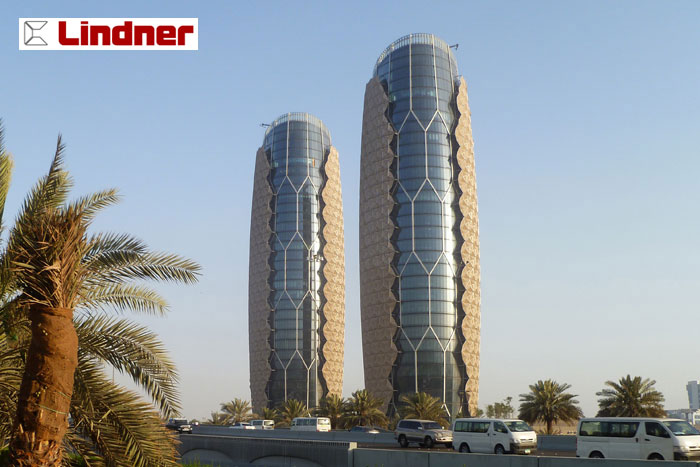 Lindner is one of the leading providers in the field of sustainable "Green Building" and makes an active contribution to environmental and climate protection. As a supplier of a complete supply chain - from planning and development to production and delivery of keys - Lindner can support its customers with the best in the fulfillment of their individual green building projects.

Many buildings, where Lindner was deeply involved in the execution, now also have been awarded for their holistic quality with certificates. The picture on the right shows the building project Al Bahar Towers in Abu Dhabi, which is evaluated by the green building certification LEED. Here among others, flooring and ceiling products of the Lindner Group are installed.

The internal service department "Green Building", under the management of Prof. Josef Steretzeder coordinates the implementation of sustainability requirements in project management. The successful certification is provided by professionals with competencies to DGNB Consultant and LEED Green Associate. Through Prof. Steretzeder the company Lindner cooperates with the Deggendorf Institute of Technology, Faculty of Civil Engineering and Environmental Engineering in the areas of: Green building, environmental and energy management.

Using practical experience from numerous other green building projects Lindner develops its products constantly sustained and is adapting them to the material requirements of the certification systems. Therefore, already in the bidding phase detailed information on the ecological building material properties of the products can be provided.

Particularly through the use of land-intensive system products, for example, floor, ceiling, wall systems, or the energetically very important facade, Lindner products have significant influence on the success of LEED, DGNB, BREEAM and all other popular rating systems.

A complete verification using environmental product declarations (EPD), test chamber measurements (e.g. VOC) gives users and developers safety having made the right decision with Lindner products - whether there is a plan to certify a building or not.

The conductive aspects of the Lindner Group for future-oriented Green Building include:

Environmentally conscious use of raw materials
Usage of recycled materials
Integrated energy concept
Usage of low-emission materials
Indoor Air Quality
Thermal comfort
Reuse of building materials
Recycling with concept
These principles illustrate the basis of the work and show clearly how all the required criteria to sustainable building are met with ecological thinking and action. In order to protect the environment in the future and to conserve resources, the vision 2020 - CO2-neutral and waste-free production- was set as a target. This is focused and expedited by environmental and energy management systems, life cycle assessment and continuous production.
The Lindner Group is a founding member of the DGNB (German Sustainable Building Council), member of the USGBC (US Green Building Council) and member of the IBU (Institute of Building and Environment).
Categories: