Turn your bathroom into a haven of inspiration
The holy month of Ramadan has been a scorching one this year, but as usual has seen families, friends, and loved ones connect with each other right other across the Middle East – creating a feeling of peace, harmony and wellbeing.

The Eid festivities are just around the corner, bringing with them a sense of renewal and moving forward. For many this will be a time to make new plans, get creative in the home, and carve out some time for individual growth.

After the hustle and bustle of activity in the kitchen over Ramadan and Eid, the bathroom can become a calm, restorative and evocative space as we prepare for the long, hot summer months.

Want some inspiration? Hansgrohe Middle East offers five stunning design ideas to consider...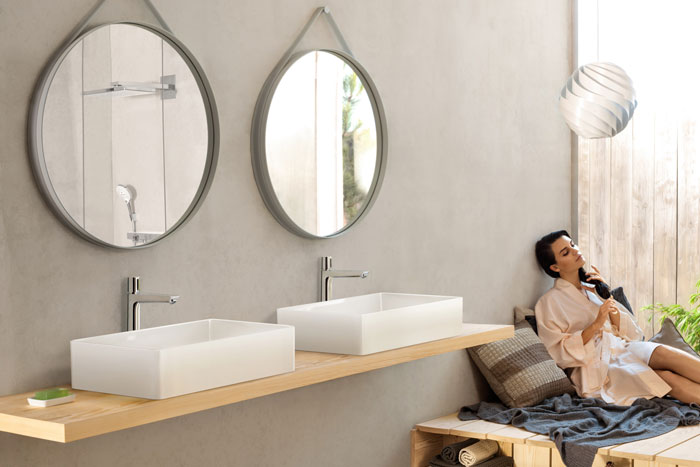 Bring hygge to your home
Anyone designing a new bathroom nowadays turns to trends that help slow down our hectic lifestyles. The Danes have their own special word for that: hygge. This describes the feeling of wellbeing and contentment people derive from tranquillity, simplicity and relaxation. With a 'hyggelig' bathroom you start off the day happy and end it with a warm feeling of wellbeing – perhaps together with your entire family. It's the little things that bring cosiness to what used to be a very functional and sterile space: natural and homely materials, friendly textiles, and plants and candles convey tranquillity and inspire us to return to the simple pleasures of life.
Revel in chic, classic design
Looking for some classic sophistication in your surroundings? The AXOR Montreux collection draws inspiration from design features popular in the early 20th century, offering bathroom fittings in the style of the first commercially manufactured products. Featuring contemporary lever handles and classic details (e.g. delicate cross handles and elegant ceramic inlays) combined with industrial design elements, Montreaux delivers old world elegance, exquisite design, and technological innovation.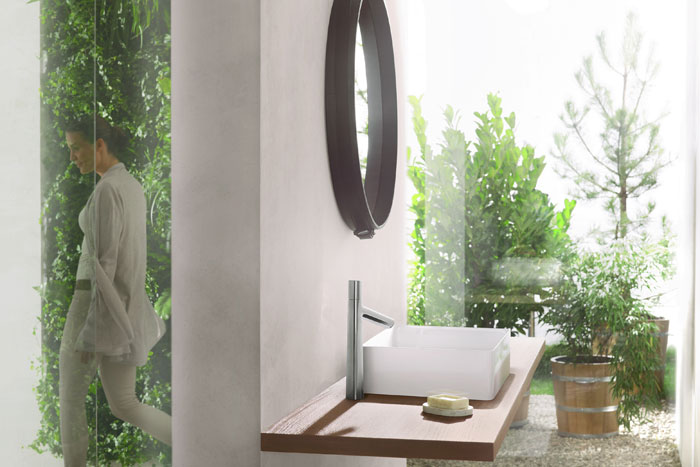 Make life easy (on the environment too)
Featuring exceptional ease of use to pamper yourself, hansgrohe offers two Talis mixer ranges showcasing Select technology: Talis Select S and Talis Select E. Here there is a fusion of form and function – the lever completely disappears, and you can control your mixer at the touch of a button. This offers you the ultimate in convenience and helps you save water, because this kind of intuitive operation encourages you to turn the water off. For bath tubs, mixers that are concealed or floor-standing. For the shower too, you have a choice of single lever mixers or concealed models.
A slice of bathroom heaven
For the ultimate in luxury and rejuvenation, the AXOR ShowerHeaven 1200 and AXOR 350 overhead showers, introduced in 2017, are an expression of a new dimension in showering. Uniting purist design with top engineering, different jet types provide a luxurious shower experience: the unique PowderRain jet, the large-area soft Rain jet, and a relaxing, meditative mono jet integrated into one head shower. At the push of a button, the individually adjustable wings will open up that have PowderRain sprinkle one's entire body from the side, while the head area may be excepted – a pure 3D wellness experience.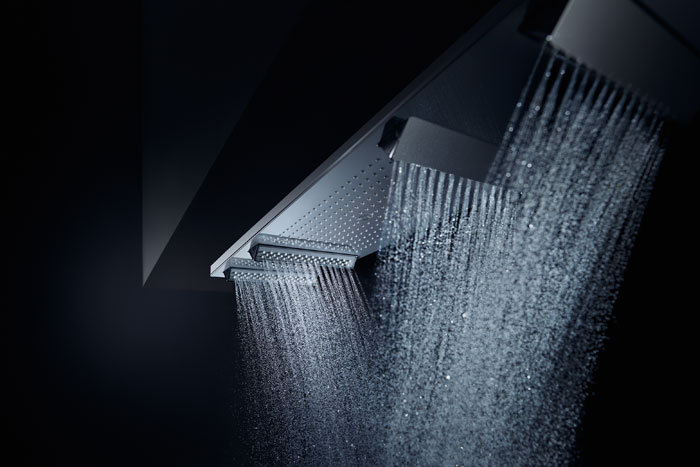 Go for gold
If you dream of more sparkle and beauty in your bathroom retreat, hansgrohe has expanded its comprehensive range of mixers for high-end private bathrooms with its Metropol Classic line, in collaboration with Phoenix Design. One of the outstanding features of this new collection is its surface design: the Metropol Classic collection boasts elegant, gold accents on the base, the handles and the spouts of the mixers. They are not just gold, they are 'green' too: the hansgrohe Metropol Classic mixers all come equipped with EcoSmart technology whereby an aerator in the nozzle reduces water flow to about five litres per minute.