About Accessories > Xypex Quickset
Brochures

Accessories > Xypex Quickset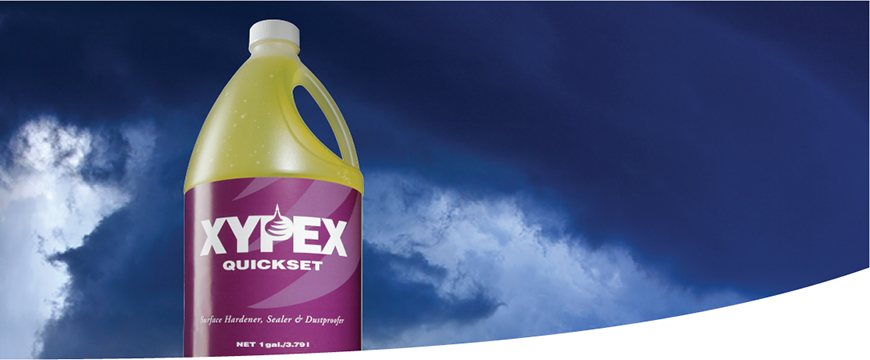 Quickset
Xypex Quickset is a water-soluble liquid blend of silicates, neutralizers and penetrating agents specially compounded to harden, dustproof and seal the surfaces of fresh or newly cured concrete floors.
Applied to the concrete surface, Xypex Quickset penetrates into the capillaries of the concrete substrate and chemically reacts with the free lime and calcium carbonate to form a hard, insoluble gel within the pores, thus closing off the small voids. Quickset provides superior hardening and a dustproof finish.
Recommended for:
Concrete slabs where a hard, abrasion resistant (light to moderate traffic load), dustproof surface is required.
Enhancing the abrasion resistance of a concrete surface where Concentrate DS-1 or DS-2 has been applied.
Packaging
Xypex Quickset is available in 1 U.S. gallon (3.79 litre) bottles and 5 U.S. gallon (18.95 litre) pails.

03 00 00 - Concrete
03 10 00 - Concrete Forming and Accessories
03 20 00 - Concrete Reinforcing
03 30 00 - Cast-in-Place Concrete
03 40 00 - Precast Concrete
03 50 00 - Cast Decks and Underlayment
03 60 00 - Grouting
03 70 00 - Mass Concrete
03 90 00 - Concrete Curing Agent and Admixture
07 10 00 - Dampproofing and Waterproofing
07 14 00 - Fluid-Applied Waterproofing
07 16 00 - Cementitious and Reactive Waterproofing
07 17 00 - Bentonite Waterproofing
09 34 00 - Waterproofing-Membrane Tiling