About Pumping Equipment
Pumping Equipment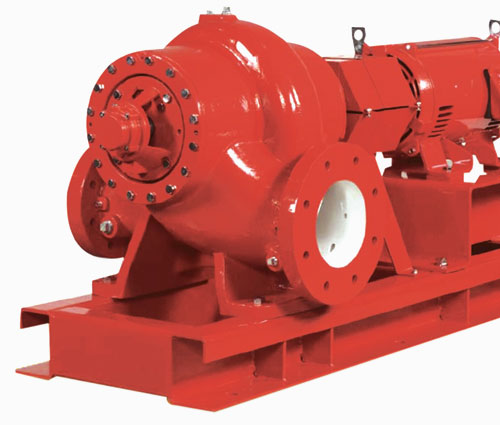 Faisal Jassim Trading Co. (FJTCO) represents ITT Bell and Gossett's total line of pumping equipment. We supply all type of pumps suitable for chilled water, booster and transfer water, fire fighting to NFPA or local civil defense standard and submersible pumps.
FJTCO is specialized in the design and supply of variable speed pumping application for the chilled water or the domestic water application. Faisal Jassim outsources pumps also from ITT VOGEL (Austria) to meet special project requirement. We are also the distributor of Western Electric Motors (Australia) for capacity up to 500kw.
FJTCO has a full fledge workshop and a service centre to handle the most demanding requirements. Spare parts are available to attend immediately to possible breakdowns, on any of the packages.
News archive:
Introduction Xylem - the inventor of the submersible pump... (14 Dec 2011)
Bell & Gossett VSX pumps - a different take on 'custom' design. (16 Feb 2009)
21 30 00 - Fire Pumps
22 11 00 - Facility Water Distribution
22 13 00 - Facility Sanitary Sewerage
22 14 00 - Facility Storm Drainage
22 51 00 - Swimming Pool Plumbing Systems
22 52 00 - Fountain Plumbing Systems
23 21 00 - Hydronic Piping and Pumps
23 53 00 - Heating Boiler Feedwater Equipment

Categories: ITT Bell Gosset ITT Vogel Western Electric Motors, pumping equipment, pumps, chilled water, booster and transfer water, fire fighting, submersible pumps.