About Hydropool Swim Spas
Brochures

Hydropool Swim Spas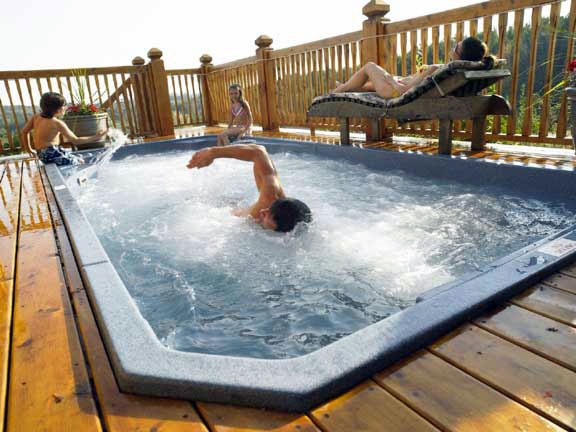 Imagine having the benefits of a large conventional pool in an easy to install mini-version. You can swim gently in place, without turning, or against a swift current and then relax in one of the two jetted hydrotherapy seats. Hydropool Swim Spas are fun and safe for all ages.
Shallow enough for most children and non-swimmers yet deep enough to satisfy the most serious swimmer, jogger or water aerobics enthusiast. All Hydropool swim spas are shipped pre-plumbed and can be easily installed by anyone with basic handyman skills. They can be installed easily into any backyard or solarium. Considerably smaller than conventional pools, the Hydropool swim spa requires less chemicals and maintenance and leaves more room for swing-sets, gazebos or family entertaining.
Hydropool swim spas are coated with a layer of insulating foam and with the optional locking safety hardcover, they cost less to operate and can be enjoyed year round, even outdoors in colder climates. Whether you are swimming, simply enjoying the relaxation of water or playing with the children on a warm day, a Hydropool Aquatrainer or Aquaplay Swim Spa will bring years of enjoyment to the whole family.

13 11 00 - Swimming Pools
13 14 00 - Amusement Park Structures and Equipment
13 17 00 - Tubs and Pools

Categories: Hydropool Swim Spas, Aquaplay, Aquatrainer, spa, pool, swimming pool, play pool, mini pool, jacuzzi, exercise, family, fiberglass reinforced acrylic.