ATEX- and IECEx-Certified up to 60°C
More than 50 WAGO-I/O-SYSTEM components have been approved for use in hazardous areas by the German TÜV Nord certification body.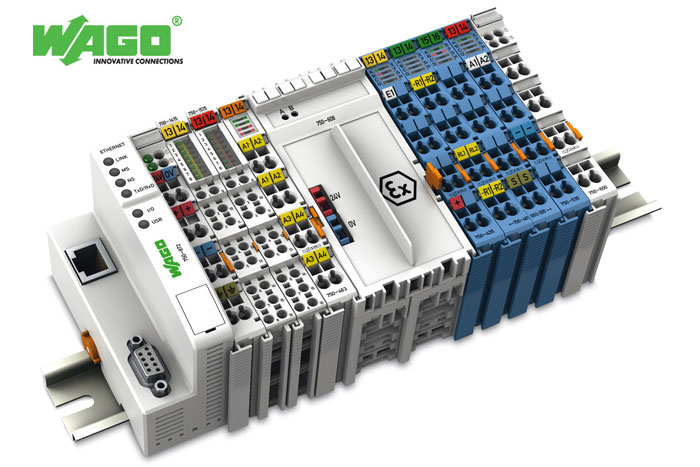 WAGO continues to expanded its line of Ex products: More than 50 components within the WAGO-I/O-SYSTEM 750 have been approved for Ex applications. Recently ATEX- and IECEx-certified products for operating in temperatures up to 60°C include: Eight- and 16-channel digital input/output modules, fieldbus controllers with media redundancy or SD card, as well as PROFIsafe and Bluetooth® modules. This simplifies and streamlines the implementation of customized automation solutions in hazardous areas (e.g., mine environments, gas and dust atmospheres).
The WAGO-I/O-SYSTEM is designed for installation in non-hazardous areas or in Zone 2/22. The system integrates sensors and actuators via intrinsically safe Ex i modules in Zones 0/22 and 1/21, without additional devices (e.g., Zener barriers). This allows Ex i applications to be safely and economically combined with standard automation applications. Fieldbus technology for hazardous areas is particularly vital to both process (grain/coal mills, bio-gas/cement plants) and power industries (gas/oil production facilities).
The WAGO-I/O-SYSTEM 750
The world's first finely modular, fieldbus-independent I/O system — the WAGO-I/O-SYSTEM 750 — readily meets all the requirements placed on distributed fieldbus systems. It is also certified by prominent certification agencies for worldwide use in extremely diverse applications.
The system's modularity is also reflected in its support of numerous fieldbus systems. Depending on the application, it is possible to choose between fieldbus couplers and controllers (PLC) for different protocols. With 400+ digital, analog and specialty I/O modules, the WAGO-I/O-SYSTEM 750 offers scalable performance and high integration density with an unbeatable price/performance ratio.