JUMPFLEX®-To-go app from Wago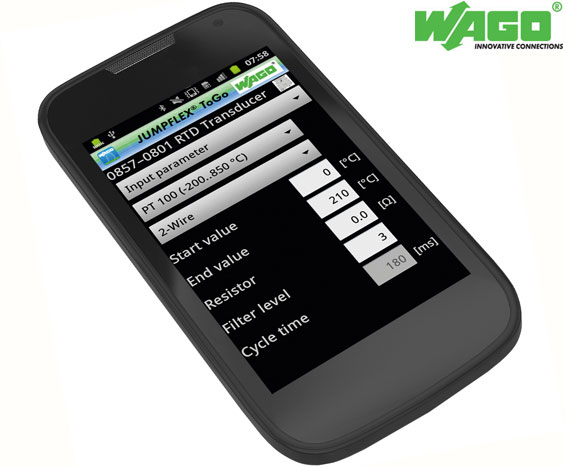 Configure WAGO 857 Series transducers more easily with the free app for smartphones and tablet PCs.
As high-performance as configuration via FDT/DTM: the free JUMPFLEX®-To-go app brings the entire functional scope of PC-based software to all mobile end user devices running the Android operating system. With the new application, which runs on Android Version 2.3 and higher, it is possible to change input and output parameters and display settings and measurement values. The 750-921 Bluetooth® adapter forms the interface between the mobile end user device and the transducer.
Essential characteristics of the app are its clear interface design and user-guided operation. Automatic module detection makes configuration of the transducers easier. All of a project's parameters can be saved on the SD card of the smartphone or tablet PC and thus reused for other JUMPFLEX® devices of the same type. In particular given increasing decentralization, productive apps such as JUMPFLEX®-To-go increase flexibility and ensure that devices are easy to service.
JUMPFLEX®
JUMPFLEX® transducers have a uniform housing design with product-spanning jumpering possibilities at each clamping point, eight CAGE CLAMP® connections, and a width of just 6.0 mm. Thanks to these mechanical characteristics combined with the electronics and secure disconnection, a very broad ambient temperature range, and signals that can be calibrated and switched, it is possible to create "systematic" products that offer synergies and savings potential.