About Outdoor Fittings
Outdoor Fittings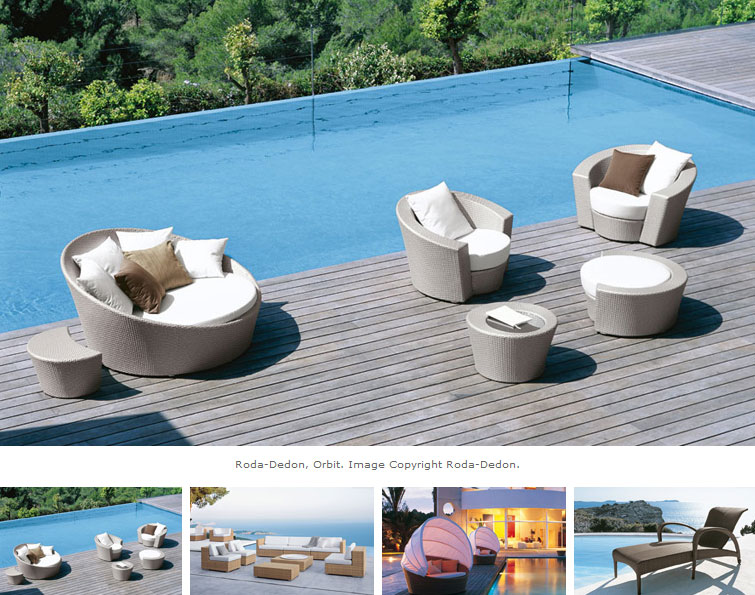 Indoor and outdoor. A clear separation which today, thanks to trademarks such as Roda and Dedon, becomes much more softened. The outside products of the two brands, in fact, express a different, innovative concept of furnishings, centred on the possibility of enjoying open spaces through collections with considerable design content. No longer rigid distinctions between In fittings (at a high level of design) and Out fittings (nothing more than functional): the lines proposed by Roda and Dedon use materials and fabrics which, besides performing and being able to resist the most adverse of climactic conditions, can claim an absolutely important aesthetic dimension. Roda, through its association with Rodolfo Dordoni (one of the best designers on the international scene and also art director of the company) has designed a project which goes beyond the mere concept of a collection, and instead moves closer to an innovative vision of furnishings for unexplored spaces. Net-Work, the first series designed by Dordoni for the brand, is a real turnabout in the company's history and includes seats and complementary items produced using noble materials such as solid teak for structures and interwoven belts for backrests and seats. Apart from Dordoni, Roda collaborates with designers of the calibre of Gordon Guillaumier and the Lievore Altherr Molina Studio.
12 00 00 - Furnishings
12 40 00 - Furnishings and Accessories
12 46 00 - Furnishing Accessories
32 33 00 - Site Furnishings

Categories: outdoor fittings, furnishings, seats, roda, dedon.