Caparol Paints Enjoys Bright Prospects
Sustainable and eco-friendly products combined with German quality standards have given Caparol Paints LLC the competitive edge, says General Manager Martin Rosocha and Head of Sales & Marketing Mowaffaq Balish.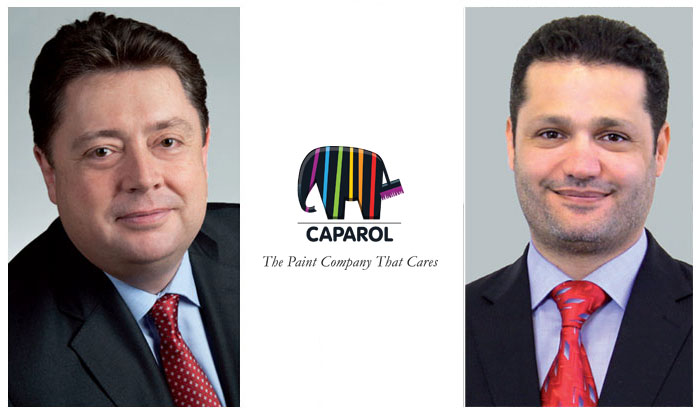 Left: Martin Rosocha, General Manager of Caparol Paints, Right: Mowaffaq Balish, Head of Sales & Marketing.
With large-scale projects in the pipeline ahead of the Expo 2020 in Dubai and the FIFA World Cup 2022 in Doha, the GCC region's construction industry is making great strides. And related sectors such as paints and coatings are following suit, said Martin Rosocha, General Manager at Caparol Paints LLC.

To participate in the positive dynamics of the region, Caparol, part of the DAW SE Group in Germany, one of Europe's largest paint and insulation manufacturers, is expanding the business from the production base in Dubai.

"In 2013 we opened our modern production plant in Dubai Industrial City. This move has allowed us to meet the increased demand for durable paint and insulation solutions that the Caparol brand has been known for," the general manager said.

Painting the region green

A thriving market such as the GCC has undoubtedly attracted several industry players, but Rosocha said having sustainable and environment-centric products combined with a strong focus on German quality gave Caparol an advantage.

"The focus of our product development is besides offering technical sound solution for the extreme climate conditions, always also on the effects our products may have on the end-users, applicators and the environment. This is why sustainability is a core business value for us," he explained. "Another product that sets us apart is our external thermal insulation composite systems (ETICS) since many paint companies only focus on paints and not on thermal insulation to save energy. To insulate the outside walls of buildings with the Caparol thermal insulation system can lead to substantial savings in cooling bills."

For Caparol, innovation plays an important role in continuously developing products that are not only eco-friendly, but also meet the various demands of consumers.

Among these products include Capa- Care, which are odourless as well as solvent- and plasticizer-free interior paints developed with family consumers in mind. Balish said they are looking at adding another product to the CapaCare range by the end of July.

Caparol has also developed CapaStone, which provides natural stone-like paint effect that brings out the character in any structure; as well as the CapaDecor range, which is a collection of interior creative finishes, including shimmering metallic and wall coverings that allow for enduser's unique individual expressions.

Quality and customer service

Balish said the company is keen on increasing its market share in the UAE in the coming years, but is also looking at other key markets such as Saudi Arabia, where it will establish presence in 2015.

"We are growing and expanding our retail partners in the UAE. With the construction market back on track and a slew of projects needed to be completed before 2020, Caparol will be focusing a lot of its energy on providing exceptional customer service and high-quality products," he added.