Case Study: The Opus by Omniyat, Dubai featuring Standard Hanger & M6 Stud
The Opus by Omniyat is a prestigious development in downtown Dubai in the heart of the Burj Khalifa district. Designed by the world-famous architect Dame Zaha Hadid, it is a mixed-use building containing six basement levels of parking, a design hotel, private apartments and office accommodation.

Due to the open ceiling, a solution was needed that would work well with the other building services that were being installed, and it also needed to be aesthetically pleasing. In addition, it was necessary that the solution was adjustable due to minimum height required for clearance above the cars using the carpark.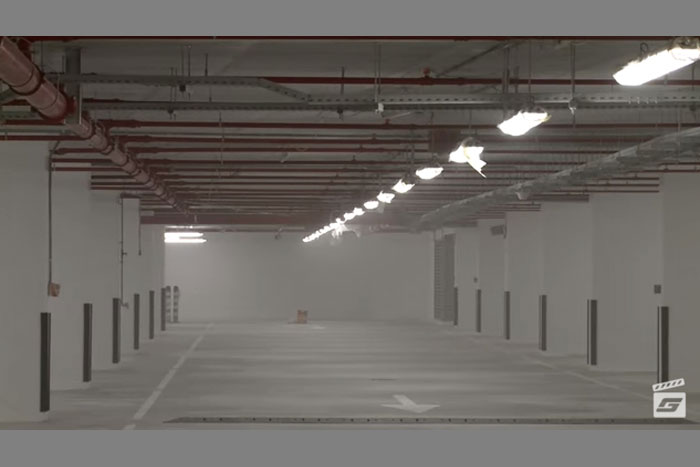 Gripple's wire suspension products were used to install the lighting in the carpark of The Opus by Omniyat, Dubai
Gripple Hangfast No. 1 with M6 stud was chosen as the most suitable solution. As well as being aesthetically pleasing, it offered flexibility over traditional installation solutions, as the height of the lights could be adjusted easily. The wire suspensions could also fit easily around other building services.

The main benefits of Gripple being used on this project were the improved speed of installation compared to traditional methods, and the fact the system is user friendly, so it was quick for the contractors to learn how to use. Compared to traditional threaded rod solutions, which need to be cut, filed and painted, Gripple is a ready-to-use system meaning fewer components and tools are required.

Standard Hanger

The Standard Hanger presents an ideal solution to fulfil a variety of pipework, mechanical, electrical and HVAC suspension requirements.

Up to 6 times faster to install than traditional suspension systems
Versatile
Simple to use
Adjustable using key (provided with kits)
Aesthetically discreet and lightweight
Strong, safe and industry approved
Load ratings up to 325 kg with a 5:1 safety factor
All hangers are supplied as ready-to-use kits with a length of wire rope and end fixing of your choice.
Watch the Project Video
Categories: