Fast Trak: Rapid Trapeze Brackets
A REVOLUTION IN PRE-FABRICATED CONTAINMENT SUPPORTS Gripple Fast Trak is a quick installation trapeze bracket solution which removes labour intensive on-site activity associated with traditional suspension systems. We lead the way in pre-fabricated, off-site solutions which simplify the process of installing building services; with the launch of Fast Trak, we've extended that time saving simplicity to a trapeze bracket system which delivers all the flexibility of its wire rope counterparts. The next instalment in Gripple innovation, Fast Trak delivers significant cost and labour savings, carbon efficiencies and minimises health and safety concerns.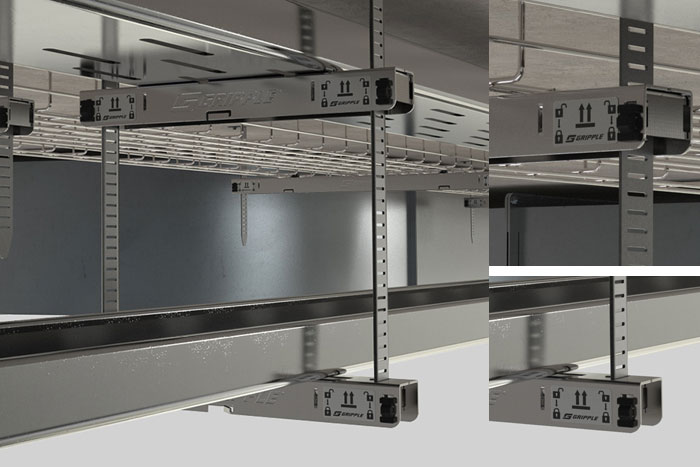 TOOL FREE
A key element of the system is its adjustability; the bracket can be moved up and down the track – without the need for tools to level – by pressing the latches at each end, to suit the specified height of the install and allow for minor adjustments. Once at the required height, the bracket 'clicks' into place and is then secured with a safety lock. Each bracket and track system can suspend a maximum weight of 180 kg with a 3:1 safety factor, ensuring the system delivers all the strength of a traditional rod system, with added flexibility and ease of use.
ZERO WASTE
To aid the install of the tracks, indicators on each side of the bracket can be used as a handy measurement tool when marking fix points on the ceiling. Once the tracks and bracket are in place at the required height, tracks can be neatly folded under the bracket, negating the need to trim any excess, delivering a zero waste product and promoting risk free working practices.
NEAT & TIDY
Specifically designed for projects where ceiling space is at a premium, Fast Trak delivers significant benefits with its pre-fabricated short track feature. The system can be multi-tiered to allow efficient use of space for additional services, making it an ideal solution for residential developments and buildings requiring optimised use of internal space. Prior to installation, it delivers the additional benefit of being very easily stored and handled on site. An off-site, pre-engineered solution, the product is delivered in compact, ergonomic packaging with an integral handle, making it easily transportable.
Categories: