Centria's New Formawall Dimension Series Environmental Product Declarations (EPDs)
Formawall Dimension Series insulated metal panel system provides thermal efficiency and moisture control in a single panelized component. Formawall Dimension Horizontal Series' insulated metal panels include a factory foamed-in-place core, minimizing insulation gaps, along with a thermal break between the face and the liner.

Both horizontal and vertical panels are available. The horizontal panels offer superior weather resistance by utilizing pressure equalization along the length of the horizontal joinery. CENTRIA's ATMP® technology allows Formawall Dimension Series insulated metal panel system to provide a superior air barrier, thermal insulation and moisture protection.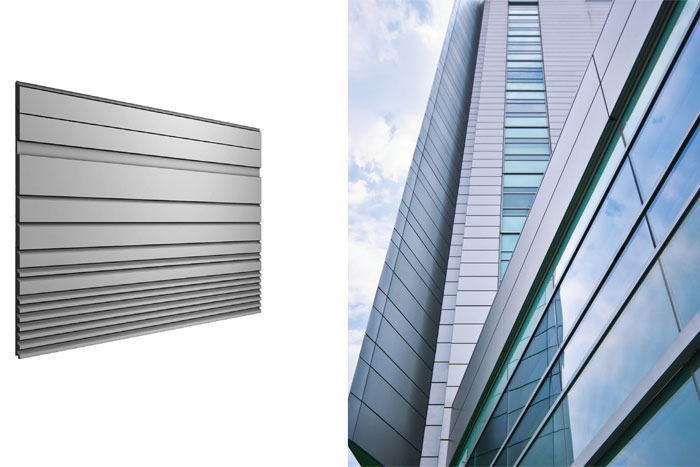 Available in horizontal and vertical panels, Formawall Dimension Series insulated metal panel system offers a wide range of lengths, thicknesses, reveals and profiles, along with integrated panel components like windows, louvers and sunshades, for an integrated, high performance system. The panels can also be curved and panel mitering makes clean, sharp corners possible. In addition, the panels come in smooth, striated and embossed surface treatments.

Formawall Dimension Series insulated metal panel system also offers concealed clips and fasteners, and our new insulated metal vertical joint (IMV) provides a clean, uninterrupted appearance. These features minimize exterior dirt streaking and staining and contribute to reduced building maintenance costs. And the panels lightweight nature makes them easy to handle and install, and may require less framing.

Formawall Dimension Series metal panel system is environmental product declaration (EPD) certified by UL Environment. EPDs rely on Life Cycle Assessments (LCA) to provide information on a number of environmental impacts of products over their life cycle.
Categories: