Second Generation Power Supply: EPSITRON Classic Power Redesign
With its redesign of the EPSITRON® CLASSIC Power family, WAGO delivers even more versatile, compact power supply units.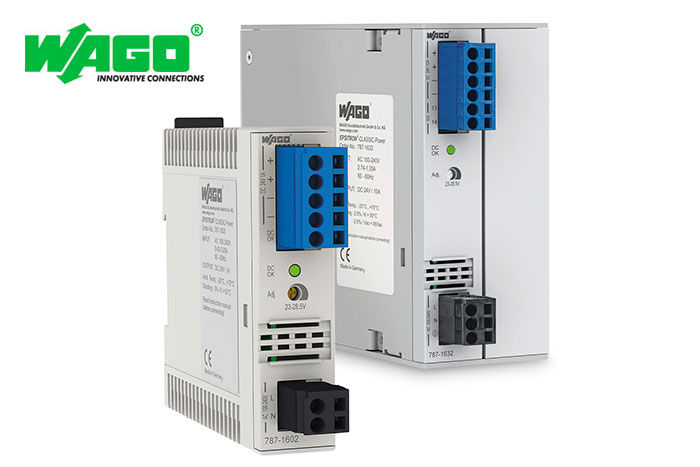 Slimmer, more communicative, just better: The more compact second generation EPSITRON CLASSIC Power supply units save even more space in the control cabinet. Thanks to their wide input range (85 to 264 VAC) and UL and GL approvals, the new 787 Series power supply units can be used throughout the world in the most varying power supply systems and applications.

The total of 14 power supply units with an ambient temperature range of -25 to +70°C can be used for supplying power to industrial electric and electronic equipment in IT and automation engineering, in systems engineering, building automation and process and control technology. The units can also be employed near residential areas thanks to their DIN EN 60335-1 conformity.

With their newly integrated TopBoost function these units, with a nominal rating of ≥ 120 W, supply a brief power surge in the event of a secondary short circuit, providing reasonably priced secondary fusing using standard miniature circuit breakers.

The new (787-16xx) power supply units are available with nominal output voltages of 12 V, 24 V and 48 V DC and capacities of 25 to 480 W. LEDs and an active DC OK signal (depending on the type of unit), or a floating DC OK contact indicate the operating status of the units at all times to the user. The pluggable female connectors with CAGE CLAMP® connecting technology reduce the installation effort required and also enable convenient prewiring.

The markedly enhanced cost/performance ratio of this new generation over its predecessors (787-6xx) makes it more than appealing for a wide variety of applications.
Categories:
26 00 00 - Electrical