Even Smarter Online Planning: The smartDESIGNER NG
The smartDESIGNER NG online planning tool from WAGO is available with a new look, improved user prompting and even more functions.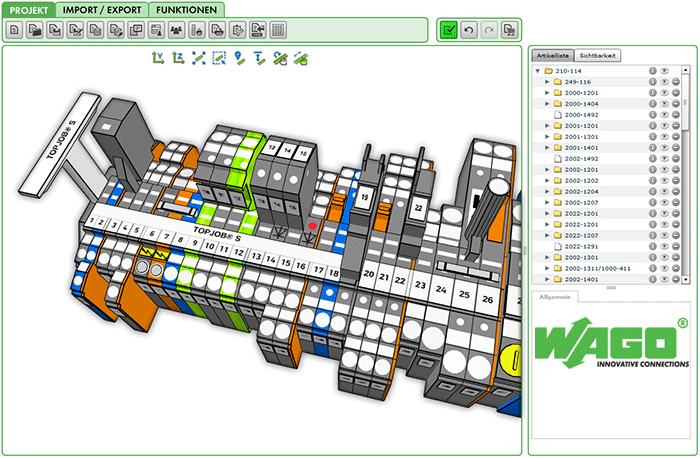 Planning, ordering, marking: The smartDESIGNER NG high-performance online planning tool from WAGO will be hitting the market in April with a new operating concept. The overhauled graphic user interface follows a clear menu layout, straight-forward screen partitioning and improved user prompting. The markedly optimized look and feel not only makes using the software easier, it also accelerates the entire planning and ordering process.

One of the special, improved or added features is the interface to smartSCRIPT; this comprehensive link to the WAGO marking software enables marking of the planned items to be performed directly from smartDESIGNER NG. Customer-specific special marking on marker cards (WMB-Inline mats) is also possible using the current version of smartDESIGNERs NG. Users also have the possibility of integrating this online planning tool to an even greater degree into their own commodity management programs by creating their own dedicated libraries with company-specific item numbers.

smartDESIGNER NG enables 3D planning of WAGO products from electrical connecting and automation technology, including the WAGO-I/O-SYSTEM 750, SPEEDWAY 767, rail-mounted terminal blocks, PCB terminal blocks, pluggable connectors and WINSTA®. Online planning in the Cloud does away with the need for classic software installation and offers other decisive benefits: Users have access to the projects at any time from any place in the world – and always with the most current item data from WAGO. smartDESIGNER NG supports data import from its predecessor versions 5.4 and 6.0.

Categories:
26 00 00 - Electrical