About Ara Single Handle Lavatory Faucet
Ara Single Handle Lavatory Faucet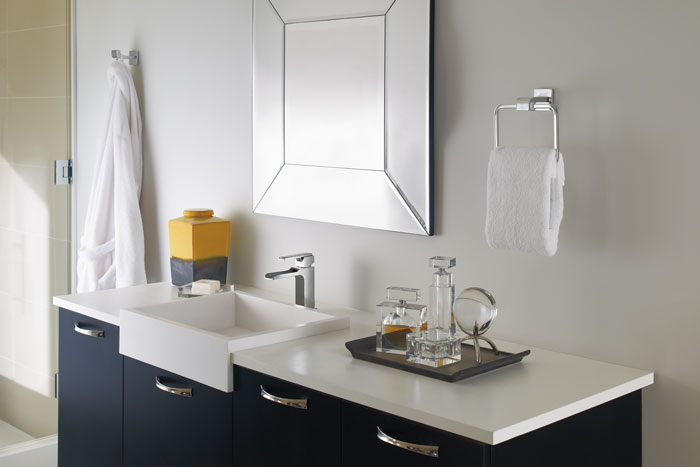 Product No: 567LF-MPU

Delta Faucet introduces a contemporary collection of faucets, showers and accessories for the bath with its new Ara™ product suite. Influenced by the angular silhouettes featured on modern residential architecture, the Ara collection boasts a crisp rectangular shape with a slim profile.

"Geometric shapes are making their mark in the contemporary design category and our new Ara collection satisfies this growing trend with a clean shape that aligns perfectly with modern interiors," said Allison McKinney, Delta brand product manager. "This angular, modern style is so universally appealing, we want to offer the Ara product portfolio to regions across the globe."

About the AraTM Bath Collection:

Full suite of products available.

Offered in contemporary chrome and Brilliance® Stainless finishes, the Ara bath collection features a large range of products, including enclosed spout and channel spout configurations on its single-handle and two-handle widespread and wall-mount faucets; 14, 17 and 17T series tub and shower trims; push diverter escutcheon and handle; handshowers; and 3- and 4-hole Roman tub faucets. Additionally, 1-handle vessel riser option, Bidet spray and enhanced coordinating accessories including a 61 cm double towel bar, universal mount tank lever, 43 and 27 cm shower arms and 76 cm towel bar are also available.
DIAMOND™ Seal Technology (exclusively for 2H Widespread products).
DIAMOND Seal Technology combines a durable DIAMOND™ Valve with InnoFlex® PEX waterways. The valve requires no lubrication, eliminates wear on seals, and ensures "like new" operation for the life of the faucet, lasting up to 10 times the industry standard. The InnoFlex waterways eliminate potential leak points and are less hassle to install.


Water does not come in contact with metal surfaces once inside the faucet.
MultiChoice® Universal Valve
Once the MultiChoice® rough-in valve is installed, future shower function upgrades or style changes can easily be made without altering the plumbing behind the wall.


The pressure balanced freestanding tub filler comes with a 1300/1400 Series MultiChoice® Universal Valve cartridge. In 2006, the tub/shower industry was transformed by the introduction of Delta Faucet Company's MultiChoice Universal Valve, which enables users to make functional and stylish trim changes without ever changing the valve in the wall. One valve offers three function options: a single-function pressure balance, a dual-function pressure balance, and a new dual-function thermostatic valve cartridge.


Delta Faucet Company is the first and only manufacturer to offer the ability to install both pressure balance and thermostatic cartridges in one valve.
H2Okinetic® Showers
H2Okinetic® showers look different because they are different. The science behind H2Okinetic technology creates a shower experience like no other. Each showerhead and handshower contains an internal system that sculpts the water into a unique wave pattern, creating a consumer-proven feeling of more water, all without using more water. All showerheads in the Ara bath collection feature H2Okinetic technology. Additionally, there are two options, 1.5 gpm or 5.6 lpm and 2.0 gpm or 7.5 lpm, and a new coordinating square H2Okinetic handshower. The handshower is being sold with a new square wall mount holder or slide bar and is included with the 4-hole Roman Tub.
WaterSense® Labeled
Delta Faucet Company takes its role as the 2013 WaterSense® Partner of the Year very seriously and is committed to working with the U.S. Environmental Protection Agency (EPA) to encourage efficient use of water resources and actively protect the future of our nation's water supply.


All lavatory faucets in this collection meet WaterSense requirements, flowing at a rate that is less than the industry standard of 2.2 gallons or 8.3 liters per minute (gpm or lpm). The WaterSense-labeled lavatories in the Ara bath collection provide up to 32 percent water savings over standard lavatory faucets, while the WaterSense labeled showerheads provide up to 40 percent water savings over standard showerheads , all without sacrificing the comfort and convenience of the user experience or the durability and life span of the product.

22 40 00 - Plumbing Fixtures
22 41 00 - Commercial Plumbing Fixtures
22 41 00 - Residential Plumbing Fixtures