About Brizo - Charlotte Two Handle Widespread Lavatory Faucet with Handles
Brochures

Brizo - Charlotte Two Handle Widespread Lavatory Faucet with Handles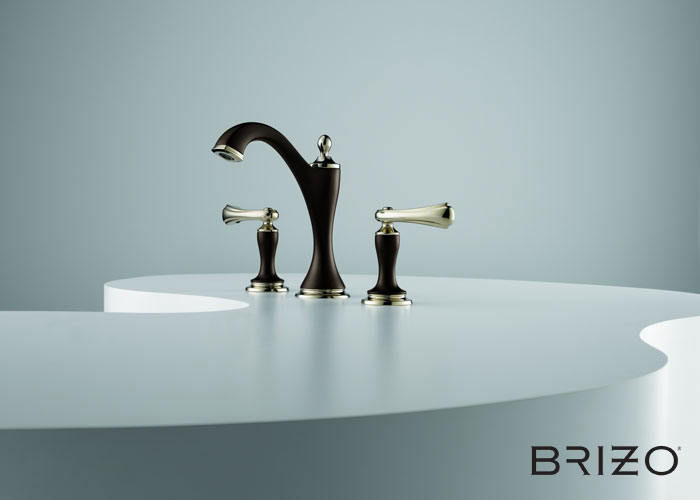 "Charlotte's genesis came from us being immersed in Art Deco. We were studying everything from iconic skyscrapers and hotels to smaller, domestic items like flatware—which actually ended up being the main inspiration behind the handle blades."– Judd Lord-Director of Industrial Design

Features:
Charlotte™ infuses clean lines with classical elegance, deftly bridging the gap between traditional and modern design.
Spout features water-efficient, hidden laminar flow aerator
Metal pop-up included
Flow rate:5.7 L/min @ 414 kPa
Inspired by the bold linear symmetry, lavish design and opulent style from the Art Deco movement, the Charlotte™ bath collection appeals to those who desire a space with clean, contemporary lines and a hint of classic refinement.

Launched in 2013, the Charlotte collection served as the platform for the new Coca Bronze finish from Brizo, a rich, dark bronze finish that is paired with polished nickel accents on this bath suite. With the addition of TempIQ™ and SmartTouchPlus™ Technologies on the single-handle lavatory faucet, it is also the first full bathroom collection from Brizo to debut an electronic temperature sensing indicator and touch or hands-free capability.

"The Charlotte bath collection makes a statement that's sophisticated without being grandiose," said Judd Lord, director of industrial design for the Brizo brand. "Now, with the added benefit of smart technologies, it is the perfect example of a practical indulgence."

Charlotte™ Bath Collection:

SmartTouchPlus™ Technology
SmartTouchPlus Technology allows the users to start and stop the flow of water with a simple touch anywhere on the spout or handle of the faucet. For a more intuitive experience, its hands-free mode activates the flow of water when hands are anywhere within 4" of the faucet.
TempIQ™ Technology
TempIQ Technology features a LED light display built into the dial on top of the faucet that uses shades of light, from blue to magenta to red, to indicate water temperature. The thermostatic valve built into the lavatory faucet also monitors the mixture of hot and cold water to help provide a consistent temperature for the user, while its high temperature limit stop offers an added degree of safety.
H2Okinetic™ Showerheads
The Charlotte collection features H2Okinetic technology, which provides a warmer, more luxurious spray that uses less water by controlling the shape, velocity and thermal dynamics of the water droplets– without sacrificing the user experience.
TempAssure® Thermostatic Valves
The TempAssure thermostatic valve measures and monitors the temperature of the water, automatically adjusting the water mix to maintain a more precise water temperature.

WaterSense®-Labeled Products
As Delta Faucet Company strives to achieve and increase water-efficiency across its product lines, it takes its role as a WaterSense partner very seriously. Delta Faucet Company is committed to working with the EPA to encourage efficient use of water resources and actively protect the future of our nation's water supply. Brizo WaterSense labeled lavatories use 32 percent less† water and perform as well or better than their less efficient counterparts. All lavatory faucets and showerheads in this collection are WaterSense-labeled.
Full collection of bath products with coordinating accessories and lighting, Widespread lavatory faucet, Widespread vessel faucet, Wallmount faucet, 3 and 4 hole Roman tubs, TempAssure medium flow shower and tub/shower trims, 3 and 6 function diverters, Sensori® High Flow custom shower trims, H2Okinetic 6 inch showerhead, H2Okinetic 8 inch ceiling mount showerhead, handshower with slidebar and wallmount handshower, coordinating accessories, lighting and mirrors.

Variety of available finishes.
Products in the collection are available in the Cocoa Bronze finish with Brilliance® Polished Nickel accents, chrome, Brilliance® Polished Nickel and Brilliance® Brushed Nickel finishes.

10 28 00 - Toilet, Bath, and Laundry Accessories
22 40 00 - Plumbing Fixtures
22 41 00 - Commercial Plumbing Fixtures
22 41 00 - Residential Plumbing Fixtures

Categories: bathroom, lavatory, lavatory faucet, faucet, water mixer, water tap.